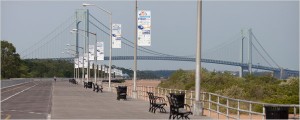 WHEN Lina Shuster takes portraits of clients for her photography business, she often uses the beach as a backdrop. Luckily for her, that means going just a few blocks from home.
Not many New Yorkers can lay claim to that pleasure. But it is one advantage of living in Midland Beach, a small and quiet neighborhood on the eastern shore of Staten Island.
More than anything else, Ms. Shuster says, it is location that gives the place its appeal. "We are in walking distance to the beach and public transportation," including an express bus to Manhattan that her husband takes, Ms. Shuster said. "So it works out perfectly."
For seven years, Ms. Shuster has run her company, Lasting Memories, out of the three-bedroom semidetached home where she and her husband, Alex, live with their two children.
The area — popular for decades as a part-time summer refuge and even, a century ago, home to an amusement park — was not always so popular as a permanent residence.
But since the 1930s, things have evolved. Mimi Neuhaus, who owns Neuhaus Realty and has sold homes in Staten Island since 1969, says the enclave has gradually become a year-round home for people who like its beachfront calm at relatively inexpensive prices.
It was made all the more desirable starting in the mid-1990s, when a multimillion-dollar restoration got under way for the beach and its boardwalk.
The 2.5-mile Franklin D. Roosevelt boardwalk has a healthy share of cyclists and joggers. And in 2003, the city completed construction of an 835-foot fishing pier, where anglers on a recent day had some luck catching sea robin and striped bass.
But about a week ago, beachgoers got a rude reminder that although Midland Beach may at times seem a peaceful natural refuge, it is also very much a part of New York City. After a fire at the North River Wastewater Treatment Plant in Manhattan caused the release of untreated sewage into the Hudson and Harlem Rivers over a period of three days. As of late last week the city was still advising visitors to Midland Beach (among other shoreline neighborhoods) to stay out of the water.
It was in the 1990s, as renovations to the beach were taking place, that the neighborhood's residential streets were also changing. Scott Setaro, the vice president for operations of Appleseed Homes, said it was at this point that developers tore down many of the area's characteristic bungalows. In many cases, they were replaced with much larger semidetached homes, like the one owned by Ms. Shuster, which was built a few years before her family moved in.
Even with this larger share of pumped-up property, however, the neighborhood remains relatively free of traffic and feels far removed from the bustle of other boroughs.
Perhaps the most bucolic area is on the wetlands area on the north side, with its homes surrounded by grasses more than eight feet high.
The wetlands, along New Creek, are part of the Staten Island Bluebelt, a storm-water management system for much of the borough. Stretches are still being developed, but the New Creek Bluebelt, which covers 2,200 acres, is already in service in Midland Beach.
Fiorella Raimondi has lived next to the wetlands for 15 years, in a detached three-bedroom one-bath ranch that she bought for $120,000 and lives in with her 9-year-old daughter.
She loves the neighborhood, she said, but the maintenance of her yard, which at 60 by 95 feet is on the larger side for Midland Beach, is getting to be too expensive and time-consuming. So she is now trying to sell the house; it has been listed for about six months at $367,500.
She doesn't plan to go far; she'd like to stay in Staten Island, but maybe live in a condo. It's "peaceful and serene" in Midland Beach, she said. "You don't hear any noises except for crickets."
WHAT YOU'LL FIND
The boundaries of Midland Beach, which is shaped roughly like an arrowhead, can be subject to disagreement, but according to most sources the eastern border runs along Father Capodanno Boulevard to about Graham Boulevard. The line follows Graham west before moving in a zigzag fashion to the southwest, eventually reaching Boundary Avenue, its westernmost line. Miller Field, a military airfield turned park, marks the southern border.
Under a square mile in area, the area has roughly 6,000 people, the vast majority of them white. It rises uphill from the water, and the many dead-end streets seem to help discourage fast traffic.
For many decades, Italian- and Irish-Americans were the predominant group in the area. But Russian immigrants have recently increased in number.
Two types of housing stock predominate: small one-story bungalows, often with just one bedroom and built decades ago, and two-story brick semidetached homes or town houses built much more recently, many in the last 10 years.
These two groups of housing are found side by side throughout the area, small homes perched next to large new buildings with two or more units.
The lots in the area, said Laura B. Vallone, an agent for Vitale Sunshine Realty, are generally on the smaller side for Staten Island, some of them just 25 feet by 60 feet, which helps limit building size.
Midland Avenue, which cuts through the center of things, is the main commercial strip. It has some stores, but shopping is more profitably pursued nearby, along Hylan Boulevard, which for several miles is lined with retail of all kinds.
Joe LaRocca helps run LaRocca's Italian Ices and Pizzeria, a business that has spent 25 years along Midland Avenue. In his view, the new residential construction has changed the neighborhood for the better. "It has grown by leaps and bounds," he said. "It's become a place to be."
WHAT YOU'LL PAY
Ms. Vallone of Vitale Sunshine says that prices in the area, as in Staten Island generally, are down as much as 15 percent from their peak a few years ago. Even so, she added, the sales pace has picked up in recent months.
According to Ms. Neuhaus, prices are often slightly lower than in South Beach, the beachfront community just to the northeast. But, as in South Beach, proximity to the beach is the key pricing factor. One-story bungalows, Ms. Vallone said, generally cost $200,000 or more, while town houses and semidetached homes start at $300,000 and larger detached single-family homes often run $500,000 or more. A recent search found more than 50 properties for sale, including 17 detached houses and 17 single-family semidetached properties.
Although much of the area is owner-occupied, Ms. Neuhaus says one-bedroom bungalows are available for rent for about $1,000 a month, semidetached homes for $1,600 or more.
WHAT TO DO
The beach is the recreational watchword. And after working up an appetite there, you might stop up the hill at La Rocca's. For just a couple of dollars, customers can get one of their more than 100 flavors of ices, including rainbow cookie, a popular choice.
For green space there is Miller Field, just to the south. Its 187 acres have sports fields and picnic areas.
THE SCHOOLS
Options include Public School 38, which has about 380 students enrolled in kindergarten through fifth grade. Last year, 55 percent of fourth graders met standards in reading and 75 percent in math.
Intermediate School 2, which has about 930 students in sixth through eighth grade, is not far away. Last year, 35 percent of eighth graders met standards in reading and 39 in math.
There is no high school within neighborhood boundaries. Among the possibilities nearby is New Dorp High School, just to the south. Its graduation rate in 2010 was 74 percent, 13 points above the city's average. SAT averages last year were 446 in math, 431 in reading and 434 in writing, versus 462, 439 and 434 citywide.
St. Margaret Mary's School, which serves students in kindergarten through eighth grade, is also in the neighborhood.
THE COMMUTE
Many commuters rely on cars. The Verrazano-Narrows Bridge is nearby, and getting to Lower Manhattan can take as little as 30 minutes — or much longer, depending on traffic.
Several express buses are available, among them the X1, X2, X3, X4, X5, X6, X7, X8 and X9. They travel to Manhattan, taking 40 minutes or more to arrive in Midtown.
The S51 and the S81, which has limited stops, also run through the neighborhood, taking riders to the Grant City stop of the Staten Island Railway. The train takes commuters to the Staten Island Ferry, which takes about 30 minutes to cross the water.
THE HISTORY
In September 1900, visitors to Midland Beach witnessed an unexpected show. Beach employees had built a fence to separate the area from Woodland Beach, a resort to the immediate south, to shut off passage between the two. About 15 people on the Woodland side took offense and took axes to the fence in broad daylight. "There was some blood shed," according to an article in The New York Times, "but that was before the police arrived."
Joseph Plambeck, nytimes.com "Read Full Story"
At Gay Real Estate, we keep you posted about all the residential real estate news affecting the LGBT community coast to coast, and in your neighborhood.
Click here for list of gay realtors, lesbian realtors and gay friendly realtors Nationwide.

If you have a real estate story that you'd like to share with us with the LGBT community, please contact us at: manager@gayrealestate.com