Property owners take more active roles.
With metro Atlanta home values plunging by about one-third in five years, some owners are finding ways to add value to their neighborhoods.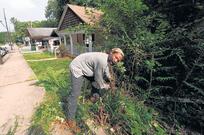 Larry Carter took the prerogative to turn around the downtown Atlanta community he bought into by getting neighbors to help clean up dilapidated properties and help real estate agents with open houses so values would not keep dropping.
Warren Jolly, a developer as the CEO of the Providence Group, had a similar idea for his newer Sterling of Dunwoody condo neighborhood, where prices begin in the mid-$100,000 range.
When the real estate crash brought construction to a halt, he was left with a bare concrete pad among the four other buildings containing more than 150 units. He began to think and negotiate creatively with his financiers about finding a use for that land, and this month workers jackhammered the $500,000 pad into pieces, hauled it away and are turning the former eyesore into a neighborhood park with trees, a grilling area and an herb garden.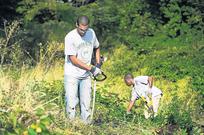 "It's good to see something come to completion," Jolly said, adding that it stabilizes the value in the community.
Don Wrenn, an owner in Sterling of Dunwoody, said seeing an empty pad would make potential buyers think the neighborhood was stalled. Turning it into a park sends a message that the neighborhood is finished, he said.
"And we as the homeowners are just absolutely thrilled," he said.
Dan Forsman, the CEO of Prudential Georgia Realty, said homeowner associations are maintaining foreclosed houses.
In other places, neighbors are mowing grass of foreclosed homes next door.
"Quite frankly, they are doing it often out of necessity," he said. "They have an investment in their community. They have some pride and want to see their community soar."
A key to the idea is to get owners rather than renters into neighboring houses or condos, Forsman said.
"Owners will do that. Renters will not," he said.
Jolly put it this way: "The only way to get value in a project today is to be able to sell in it."
And homes sell easier in neighborhoods where it seems good things are happening, he said.
Carter believes the same thing for his Ashview Heights neighborhood along the city's Beltline. Against relatives' advice, he bought a fixer-upper on Fair Street near Morehouse College two years ago.
"It was a transient neighborhood. Not that many homeowners were living there," he said. "I was looking for a house I could pay cash for."
He bought one for about $10,000 and put another $10,000 and a lot of sweat into the renovation.
Some of the neighboring 1925-era homes were boarded up, attracting trash and growing weeds. Others had been caught up in mortgage fraud schemes, with prices bid up, then the houses abandoned when the market crashed.
About 200 houses are in the neighborhood; Carter said many are bank-owned, while others are by absentee landlords.
This summer, Carter re-energized the neighborhood association, got several real estate agents involved and started holding monthly neighborhood cleanups, including mowing lawns, hauling trash and painting house fronts to make them look better.
The morning cleanups are followed by afternoon open houses that neighbors publicize by handing out fliers, talking to friends and discussing on social media. They even have a Wells Fargo agent to qualify interested buyers, who can tour Carter's five-bedroom house and others' renovated homes to see the possibilities before looking at the houses available for sale. Many of the fixer-uppers remain in the $10,000 to $25,000 range, Carter said.
Shayla Hamilton, a Smyrna real estate agent working with the neighborhood, said the two open houses have attracted lookers from nearby colleges and urban pioneers. Two houses in the neighborhood are under contract, thanks to the open houses.
Carter said, "This is the only way we will see the growth in families and stabilizing our community."
For Jolly, it was more of a bottom line than an emotional decision.
"We were looking for closure," he said. "This is the best way to sell the units, and it's the best for everybody. In today's market and time, this is the best answer."
Christopher Quinn, ajc.com "Read Full Story"
At Gay Real Estate, we keep you posted about all the residential real estate news affecting the LGBT community coast to coast, and in your neighborhood.
Click here for list of gay realtors, lesbian realtors and gay friendly realtors Nationwide.

If you have a real estate story that you'd like to share with us with the LGBT community, please contact us at: manager@gayrealestate.com