Are you ready to move to Minnesota? While it might not be the place some LGBTQ people want to call home, for others, this northern state is the ideal destination. If you love the cold, you'll find Minnesota has it in spades! But there's more to this gorgeous state than that. There are many welcoming places for those who identify as part of the LGBTQ community, and there are many gay and lesbian real estate professionals here just waiting to help you find a new home. If you're thinking about heading to Minnesota, here are some of the most welcoming cities.
Minneapolis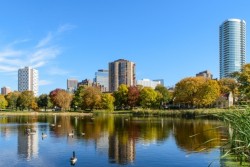 Let's start with Minneapolis, one of the most well-known cities in the state. It's also considered the most welcoming city for those looking for a great LGBTQ neighborhood to settle in. Many of those look to live in either the downtown or the uptown area. Unfortunately, housing can get expensive there. Fortunately, Nokomis, Hiawatha, and Linden Hills are all very affordable, quiet, and safe neighborhoods. If you decide to make your new home in Minneapolis, don't miss out on the annual Midwest Pride Week festival or performances by the Twin Cities Gay Men's Chorus!
St. Paul
The capital of the state, St. Paul may not be quite as large as Minneapolis, but it's still quite welcoming. In fact, some say that its downtown area is actually a better place to live than the downtown district in Minneapolis. The city does host Twin Cities Pride and has a number of different LGBTQ support groups and organizations. Those who think about moving to St. Paul might want to check out Como or St. Anthony Park, two very diverse and quiet neighborhoods.
Rochester
Rochester is definitely not as well-known as either St. Paul or Minneapolis, but it should be among the LGBTQ population. It's a very welcoming city that also has a lower-than-average unemployment rate. The city and the Gay Lesbian Services of Southeast Minnesota, which is headquartered here, host Rochester Pridefest every year. That's an event you don't want to miss.
Pine City
Want to live in a small town? You should start your search in Pine City. This small town is just as welcoming as Minnesota's larger metro areas. You'll find everything here, including East Central Minnesota Pride, an outstanding annual event. There are also a number of LGBTQ organizations and businesses in this quiet little town.
These are just a few of the places in Minnesota you might find fit your tastes. Don't discount this state just because of its weather!