Are you considering a move to New Orleans? This unique city offers a melting pot of various cultures, creating a place like no other. Whether you're looking for a quiet place to raise a family or a great place to party and meet people, New Orleans has it. But does it have a gay neighborhood? It doesn't just have one; it has three! If you're looking for a gay community in New Orleans, here are three neighborhoods you may want to live in.
Faubourg Marigny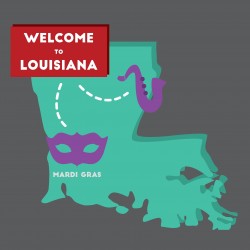 It might have a weird name, but the neighborhood of Faubourg Marigny is full of beautiful architecture. Founded in 1805, it's one of the older parts of the city, and much of it is listed on the National Register of Historic Places. It declined during the 1950s, but after Hurricane Betsy, the Faubourg Marigny began growing as a number of displaced Filipino Americans moved into the dilapidated area. By the mid-1980s, it was home to many music venues and arts festivals. This drew a number of LGBTQ individuals to Faubourg Marigny, turning it into a gayborhood.
The French Quarter
One of the most famous neighborhoods of New Orleans, the French Quarter is the city's version of San Francisco's Castro District. Unfortunately, also like the Castro, the cost of living in the French Quarter is significantly higher than in many other parts of New Orleans. However, the many historical sites and unique styles of the French Quarter are worth it, though you do have to accept the fact that many tourists visit the district year-round. This is one of the most diverse parts of New Orleans, and you'll find that basically everyone who lives here has embraced that diversity.
Pigeon Town
Finally, there's Pigeon Town. This neighborhood is much quieter than the French Quarter, but it's no less historic. It's also quite diverse, and many artists and musicians have made it their home. It's not unheard of for people to gather in the street to party just because they want to, especially since the roads aren't congested. Many people prefer to bike or use public transportation instead of driving. There are a number of public art projects that anyone can contribute to as well. Overall, it's a great place for a family.
No matter where you're looking to live in New Orleans, a gay or lesbian real estate agent can help you find the perfect home.