When people think of gentrification, they often think of older, rundown neighborhoods being reinvigorated and restored. Gentrification can do a lot of good to a neighborhood. It brings new life back into sections of a city that once flourished but then were typically hit by hard times. These areas often become home to a large amount of crime while in disrepair, so gentrification helps eliminate this.
Run down neighborhoods also tend to become home to those that the more affluent residents find "undesirable." For quite some time, this included the LGBTQ community. That's why many gay ghettos started out as poor, deteriorating neighborhoods in need of some repairs. Today, partly in thanks to the LGBTQ residents of these areas, many gay neighborhoods have gone through gentrification and are now more affluent areas with low crime and gorgeous, restored homes. But there are some downsides to gentrification, unfortunately. You may want to learn about these downsides before working with a gay or lesbian real estate agent to move into a gayborhood.
Low-Income Residents Are Forced Out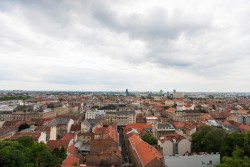 As gentrification takes hold, housing prices typically rise. In many cases, this makes it all but impossible for low-income residents of the gayborhood to remain there. If they rent, the rent goes up. If they own, their property taxes increase as the neighborhood becomes more valuable. They may also find that the cost of basic necessities such as groceries increase as higher-end stores move into the area.
Racial Tensions Can Increase
Another side effect of gentrification is that it can lead to increasing racial tensions. This is generally from the people who move into the neighborhood rather than those who have been a part of it for years. These new residents are looking at the gayborhood as an affluent, upper-class area. As such, they may also come in with preconceived racial notions that lead to conflict with their neighbors.
Certain Professions or Identities Are Pushed Out
Because these gentrified areas were once run down, they became home to a number of people who simply didn't feel welcome elsewhere. In the LGBTQ community, this may include those are part of a subgroup such as leather daddies or those who enjoy BDSM. As the neighborhood becomes a desirable place to live, clubs and other businesses that cater to these subcultures may become targeted by those who look down on these groups. People may feel as if their neighborhood is no longer their home because they're being pushed out for having particular interests or for identifying one way or another.
Many people may find it odd that an LGBTQ neighborhood, even after being gentrified, would turn against others due to their race or their interests. However, it does happen. It may not occur in every gay village, fortunately, but gentrification does transform the neighborhood in a number of ways, not all of them positive.