Are you thinking of moving to a large metro area, but want to make certain you're also near other LGBTQ individuals and couples? You'll find an LGBTQ community in every metro, but some of these communities are larger than others. Here are the metro areas that have the largest percentage of LGBTQ residents.
The San Francisco Metro Area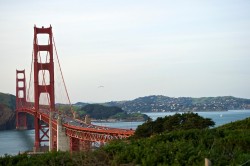 It's no surprise that the San Francisco area has the largest proportion of LGBTQ people in the U.S. According to surveys, some 6.2% identify as LGBTQ. Many people flock to San Francisco metro, which includes Oakland and Hayward, every year to visit, and many decide to stay.
The Portland Metro
The Portland metro area, which includes Vancouver and Hillsboro, has an LGBTQ population of 5.4%. Portland has become more and more popular with young people and with the LGBTQ community in recent years. Portland Pride has grown into a huge celebration of identity that brings in people from across the country.
The Austin/Round Rock Metro
Surprisingly, New York City doesn't make the top three metro areas—in fact, it doesn't even make the top ten! While Texas is a fairly conservative state, Austin is something of a haven for the LGBTQ community. Some 5.3% of its population identify as LGBTQ, and the city is home to the famous Austin Gay & Lesbian International Film Festival. For those who want to live in Texas, the Austin metro is certainly an area to consider.
New Orleans/Metairie
The New Orleans metro area, which includes Metairie, is home to a large LGBTQ population. The many different festivals and events held in New Orleans, especially Mardi Gras, bring thousands of people into the city throughout the year. Home costs in New Orleans are fairly affordable, especially when compared to San Francisco, so you can find a great home here for a very reasonable price.
The Seattle Metro
Going back north, the Seattle Metro area (Seattle, Bellevue, and Tacoma) rounds out the top five cities with the largest LGBTQ population. Some 4.8% of the metro's population identifies as part of the LGBTQ community, and they're a very active group. The metro has two pride festivals and two LGBTQ choruses. The city's hospitals have even been identified for always treating LGBTQ patients with dignity and respect.
If you're looking to move to a large metro area that you know is accepting and friendly towards the LGBTQ community, these five are a good place to start the search. You'll find many gay and lesbian real estate agents ready to help you make the move.