The southwest is known for its dry heat, native American influences, and deserts. It's not exactly known for being an LGBTQ destination or a place to live, but Phoenix, Arizona, has a thriving gay and lesbian community. This metro area is gorgeous all year long, so if you love bright, sunny days, it may be the perfect place to call home. There's a lot to do in both the LGBTQ community and in Phoenix as a whole.
Phoenix is home to dozens of luxury resorts, so there are many tourists here throughout the year. Many of these tourists and residents alike love taking hot air balloon rides or riding horseback through the unique landscape. Golf is another popular hobby in Phoenix, and the city has an astonishing 200+ golf courses. With shopping, art exhibits, and sporting events, there's a ton to do in the city.
Phoenix's LGBTQ District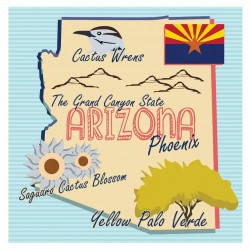 Unlike some cities, Phoenix doesn't really have a major LGBTQ neighborhood. The city is very spread out, and the LGBTQ community is, too. Even though there's not really a gay ghetto here, there are a number of LGBTQ-owned businesses in the Melrose District. You'll also find the Central Phoenix LGBT Community Center there along with some great clubs and bars. The Phoenix Pride festival is held every year at Steele Indian School Park and brings in thousands of LGBTQ individuals and allies from Phoenix and the surrounding areas.
One of the more unique things about the Phoenix LGBTQ community is that it spreads out beyond Phoenix. Many of the suburbs and nearby cities that have grown into Phoenix have large gay and lesbian populations. Scottsdale, for example, has a thriving LGBTQ community thanks to the large arts movement there.
Chandler, Mesa, Tempe, Gilbert, and Apache Junction, collectively called the East Valley cities, also have a good number of LGBTQ communities. Arizona State University brings many younger LGBTQ individuals to Tempe, while Mesa is one of the fastest growing cities in Arizona. Many have moved there in response to the commercial boom the city is experiencing.
No matter what brings you to the Phoenix area, it's certainly a great place for LGBTQ individuals and families. Home prices in the area are reasonable, especially if you compare them to other large metros such as New York, LA, or Chicago. You'll find many gay and lesbian real estate agents who can help you find the perfect home in Phoenix.