It shouldn't come as a surprise to anyone that housing costs in many gay villages are higher than average. Gay and lesbian real estate experts in San Francisco, New York, and Chicago can all tell you that the popular gayborhoods in these three cities are expensive. But just how expensive are they, and how have the prices changed? A survey done by real estate website Trulia and dating site OKCupid reveals that home value premiums jumped in just five years (between 2012 and 2017).
New York Prices Increased the most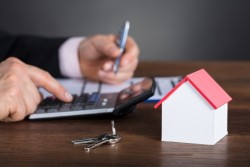 The survey looked at the average home value per square foot in the gayborhood and in the zip code overall in order to determine what percentage the value increase. For example, in New York in 2012, the gay neighborhood's home value was, on average, 106% of the entire zip code's average home value. By 2017, however, the gayborhood's average home value was 162% of the home value in the rest of that area. That's a fairly substantial increase in just five years.
In terms of cost per square foot, that means home values in the New York gay neighborhoods increased from $436/square foot in 2012 to $659/square foot in 2017. For those who purchased real estate in the area, the investment paid off. For those who are looking to move into New York's gay neighborhoods, though, it's going to be costlier.
Which Other Cities Saw Increases?
Only one other city's gay neighborhoods increased by more than 50%. While most people would expect to see San Francisco or LA here, neither of those cities made the top ten. Instead, the city in the number two spot is New Orleans. The Louisiana city known for Mardi Gras saw gay neighborhood housing prices jump from $193/square foot to $290/square foot, an average increase of almost $100. Boston come in third with an overall jump from $361/square foot to $557/square foot, moving from 79% of the average zip code cost to 105%.
Some Gayborhood Home Values Declined
Some gayborhood home prices actually dropped, becoming closer to the average home cost in the zip code. In Miami, Florida, gay neighborhood values went from 73% of the zip code premium to 60%, though value per square foot still increased from $188 to $296 due to overall market increases. In San Francisco, the home value premium dropped from 17% more than the average to only 12% above average, bringing homes in the Castro district more in line with what you'd pay anywhere else in the city.