There are many great real estate professionals out there, and chances are any of them will be able to help you find the perfect home. However, there are some things that gay or lesbian real estate professionals will understand right away while straight agents may not. Here are a few things these real estate experts might not grasp right away and why going with an LGBTQ agent might be a better option for you.
They May Not Realize You're a Couple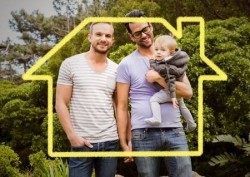 Some straight real estate agents might assume you've brought a friend, or worse, your brother/sister, to look at the property with you. They won't realize you're looking for a home for the two of you. Correcting them can be a little stressful since you never know how they will react. An LGBTQ agent may ask if you're together rather than assume you are.
They May Not Look for Family Homes
Another thing a straight real estate agent may do, often unconsciously, is assume that you won't be starting a family. They may look for smaller homes for the two of you that simply won't work for children. If you're planning on starting a family either through adoption or surrogacy, it's important to let them know upfront that you need a home that will support this. Some may assume that since the two of you can't biologically have a child together, you're not planning on a family.
They Sometimes Fall into Stereotypes
While even LGBTQ real estate professionals can do this, it's more common for straight agents to stereotype gay and lesbian couples. They may assume that lesbian couples want a large shop for their home improvement projects or that gay men want very fashionable houses with a lot of color and extravagant décor. They might show you homes that play into these stereotypes at first, which can be frustrating.
They May Assume You Want to Live in the Gay District
If the city you're moving to has a gay district, a straight real estate agent might assume that's where you want to live. You might not have any interest in that area. A good agent, no matter what their orientation, should ask you upfront what part of the city you're interested in or if there are any particular areas you need to be close to.
Overall, a straight real estate professional may simply make some assumptions. Often, they aren't actively discriminating against you or purposely doing hurtful things. If you want to avoid any misunderstandings, though, working with a gay or lesbian agent will help you get your housing search off on the right foot.