When most people think about gay neighborhoods, many think of sunny California or busy New York City. Few people would name Colorado as a gay-friendly state, but Denver actually has a very active LGBTQ community. The Mile High City is home to a great gay neighborhood called Capitol Hill. This part of the city is not only the focal point of Denver's LGBTQ community, but is also a major epicenter for artists and musicians, especially those in the alternative punk genre.
Defining the Neighborhood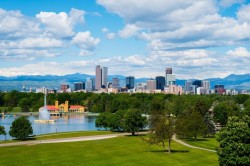 Capitol Hill is almost a perfect square. To the north is Colfax Avenue/Highway 70. Its southern border is Seventh Avenue, while the east and west sides of the neighborhood are defined by Downing Street and Broadway respectively. Some people define Capitol Hill to also include the neighboring Cheesman Park, but the city officially defines that area as its own neighborhood. There's also a North Capitol Hill that sits above Colfax Avenue, but it's more often called Uptown.
It's Got Everything from Sun Rise to Sun Set
You can start your morning in Capitol Hill by getting coffee at one of the trendy little cafes that dot the neighborhood. Then it's off for some light morning shopping at one of the boutiques before lunch. During the evening, there are a number of concert venues and bars where you can party the night away. Cheesman Park and nearby Civic Center Park may not fall within the neighborhood, but they're not far, and both hold a number of different festivals. Several clubs in the area cater to the LGBTQ community, of course.
A Neighborhood in Gentrification
While it's something of a stereotype to say that all LGBTQ neighborhoods go through gentrification, it is true of Capitol Hill and, in fact, most of central Denver. Many of the historic homes in Capitol Hill are large and fairly elaborate. That's because the area was originally home to some of Denver's high society families. Following the 1893 Silver Crash, however, some of these homes were demolished and cheaper apartments were built. Capitol Hill was then solidly middle class until the 1950s, when it became a fairly poor area.
Since then, Capitol Hill has slowly been rebuilding. The gentrification effects peaked in the mid-2000s, and today, those cheap apartments have been replaced with luxury condos. Despite this, some of the older housing is still quite affordable. On average, Capitol Hill isn't as expensive as some of the other neighborhoods. One of the local gay or lesbian real estate agents can help you find a home in this area that fits your budget.