Are you thinking about a move to Virginia? If so, you may be talking to a gay or lesbian real estate agent about homes in Richmond. The capital of the state, Richmond, was incorporated in 1742, making it a city with a huge amount of history. It's also home to growing artistic community and a number of LGBT citizens.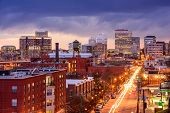 In fact, Richmond added a large LGBT community center in 2008 and home to the Triangle Theatre, one of the biggest LGBT theaters in the area. The city, which has more than 200,000 people in Richmond proper, and over 1.2 million in the Richmond Metro Area, does have two different areas that are considered gay neighborhoods. The Museum District is centered around the Virginia Museum of Fine Arts and is one of the more affordable areas in the city. It's perfect for families and art lovers.
The Fan is the other area. This historic neighborhood features more small shops, bistros, and restaurants that the Museum District, but it's also close to downtown and Virginia Commonwealth University, which means there are few rental properties available during the school season. It also tends to be a little more expensive than the Museum District.
Rights and Protections in Richmond and Virginia as a Whole
While Virginia has not been one of the more LGBT-friendly states overall, it is slowly changing. Virginia banned same-sex marriage in 1975 and later passed a bill refusing to recognize any same-sex marriages performed in other states in 1997. The state even passed a bill in 2004 preventing civil unions and overrode the governor's veto to make it legal. Another amendment in 2006 banned all types of formal same-sex relationships that resembled any form of marriage.
So why would you want to live there? Because in the past ten years, many things have changed. Many Virginians now support same-sex marriage, and following legal challenges, same-sex couples could legally marry in 2014.
Since 2007, same-sex couples have had a number of rights, including the ability to have full access to their partners if they are in the hospital. Several attempts were made to expand on these rights prior to marriage becoming legal, but they all failed. Virginia also doesn't currently offer many protections, either, although a few cities and counties do. Richmond is technically considered an independent city, however, so it is not subject to any county laws or regulations.