Baltimore may not be the capital city of Maryland, but it's probably the most famous. This city, which is technically not considered part of any county, is known for having the most public monuments per capita than any other city in the country, as about one out of every three buildings is on the National Register. If you're a part of the LGBT community who loves history, art, and architecture, then Baltimore is for you!
The city actually has a pretty good-sized LGBT community, and it's growing. You'll find a number of different LGBT businesses and other organizations, including the large GLBT Community Center of Baltimore and Central Maryland. The city also publishes its own LGBT newspaper, the Baltimore OUTloud, and holds a large pride festival every year.
LGBT Neighborhoods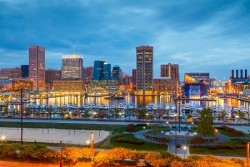 If you're thinking of moving to the city, a gay or lesbian real estate agent can help you find a home in one of the three gay neighborhoods in Baltimore. The first is the combined area of Fells Point and Patterson Park. The two are technically adjoining neighborhoods, but they're usually considered to be one area. This is Baltimore's historic gay district, and it's home to a very diverse population.
Then there's the Mount Vernon neighborhood. Here you'll find a good number of LGBT-owned businesses, including restaurants, clubs, and bars, of course. Federal Hill is another gay neighborhood located in the heart of Baltimore. Living here gives you access to just about everything, but it's also a little more expensive than some of the other options.
Your Rights in Baltimore and Maryland as a Whole
Maryland legalized same-sex marriage at the beginning of 2013, and they've had a number of different protections for individuals based on sexual orientation since 2001. Those laws were updated in 2014 to include gender identity, providing protection for everyone in the state.
If you're looking to adopt children, there's no law banning you from doing so. In fact, Maryland allows same-sex couples to adopt as co-parents. A law has also been passed that requires all health insurance policies to cover fertility treatments regardless of orientation, so it's possible to also have a child naturally.
The Maryland General Assembly passed a law in 2015 that makes it fairly simple to change the gender on your birth certificate even without sex-reassignment surgery. Interestingly, neither this nor the bill on fertility treatments were signed or vetoed by the governor, so they actually went into effect with no signature on them.