The Federal Fair Housing Act, Title VIII of the Civil Rights Act of 1968, basically prohibits the refusal to negotiate, rent or sell housing, deny a dwelling, set different terms and conditions, or provide different housing services or facilities based on race, color, national origin, sex, familial status or handicap. The Act may exempt owner-occupied buildings with no more than four units, single-family housing sold or rented without a broker, and housing that limit occupancy to members only by organizations and private clubs. There are currently no legal protections for LGBT under the federal fair housing laws.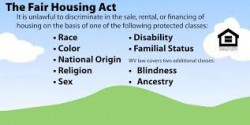 Federal Agency Protections for Same Sex Couples
Many states, municipalities and some federal agencies have statutes or ordinances that protect LGBT against discrimination based on sexual orientation and gender identity.  Sexual Orientation refers to an individual's emotional or physical attraction to the same or opposite gender. Examples include straight, bisexual, gay and lesbian. Gender identity refers a person's identification of themselves as man or woman regardless of the gender that they were born as or the sex listed on the birth certificate.
The Federal Housing and Urban Development, HUD, agency implemented a rule in 2012 designed to make its core programs available regardless of actual or perceived sexual orientation, gender identity or marital status.  The rule applies to owners and operators of HUD assisted housing or housing insured by HUD in HUDs rental assistance and home ownership programs.
What this means is that the owners of any housing that is HUD assisted or insured through the Federal Housing Administration, FHA, cannot discriminate against same sex couples in rental and housing programs. FHA was made a part of the HUD agency in 1965 and FHA is required to follow HUDs rules and policies.
HUD has jurisdiction over LGBT individual and family complaints. If you feel that you have been discriminated against, you should contact your local HUD office.
State and Municipality Protections for Same Sex Couples
The states of California, Colorado, Connecticut, Delaware, District of Columbia, Hawaii, Illinois, Iowa, Maine, Maryland‡, Massachusetts, Minnesota, Nevada, New Jersey, New Mexico, Oregon, Rhode Island, Vermont, Washington and the District of Columbia have enacted fair housing laws to prohibit discrimination based on sexual orientation and gender identity. New Hampshire, New York and Wisconsin prohibit discrimination based on sexual orientation. Many municipalities in those states and in other states have enacted ordinances that prohibit discrimination laws based on sexual orientation or gender identity.
How Anti-Discrimination Laws and Ordinances Affect Same Sex Couples
The above outline of the anti-discrimination laws, ordinances and policies are designed to give you some insight into what protections may be available to you. As noted above, those protections vary by location and can be complex and hard to understand. If you would like more information, you should contact your local civil rights agency or an LGBT attorney.
If you are interested in purchasing a new home or seeking rental property, you should consider contacting a local LGBT real estate agent via GayRealEstate.com. He or she will be up to date on laws that may affect you and will have the knowledge and expertise to assist you in finding housing that is suitable for your needs.