There are no federal laws that specifically protect LGBT when purchasing a home, although some federal agencies, states and municipalities do have laws or ordinances that protect LGBT against discrimination. For example The Federal Housing and Urban Development agency, HUD, implemented a rule in 2012 designed to make its core programs available regardless of actual or perceived sexual orientation, gender identity or marital status. The rule applies to housing insured by HUD in its home ownership programs. There are some federal laws in place that protect all people when purchasing a home.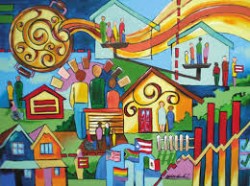 Federal Fair Housing Act
Title VIII of the Civil Rights Act of 1968, as amended, prohibits discrimination in housing related transactions based on "race, color, national origin, religion, sex, familial status (including children under the age of 18 living with parents or legal custodians, pregnant women, and people securing custody of children under the age of 18), and handicap (disability)." http://portal.hud.gov/hudportal/HUD?src=/program_offices/fair_housing_equal_opp/FHLaws
The Fair Housing Act applies to the sale of a home, mortgage lenders and homeowner insurance providers. This law can protect LGBT if the discrimination falls under one of the categories noted above. For example, if you feel that you were discriminated against because a seller falsely denied to you and your partner that the property was for sell because one of you is perceived to have AIDS, it could constitute illegal discrimination based on handicap under this law. While this may seem to be unlikely, some sellers have became attached to their home and are selective of who they would like to live in it.
The Dodd–Frank Wall Street Reform and Consumer Protection Act, Public Law 111-203, and Financial Institutions Reform, Recovery, and Enforcement Act of 1989, FIRREA, Public Law 101-73
FIRREA requires appraisers to be licensed and that their appraisals meet the standards of the Uniform Standards of Professional Appraisal Practice created by the Appraisal Foundation. Appraisers are licensed by the state that they work in according to that states requirements. The Dodd-Frank law makes it illegal to attempt to influence an appraiser to assign a market value to a home that is not accurate. Influence means to bribe, coerce, instruct, collude, extort or intimidate. It also requires that you receive one free copy of that appraisal.
This law protects you by helping to ensure that you receive an appraisal that is not as accurate as possible. Appraisals must be based on the home and its location, the price comparable homes in the area have sold for and various other factors that can affect the fair market value of the home.
Real Estate Settlement Procedures Act, RESPA, Public Law No. 93-533
RESPA is a consumer protection act that requires settlement services to disclose the costs associated with the service and outline their lender and escrow account practices. In addition, if the service is federally related, such as through HUD or FHA, the lender is prohibited from taking or giving anything of value to anyone for referrals or services. This particular section is designed to eliminate kickbacks or referral fees that may increase the cost of the loan. In addition, home sellers cannot require a purchaser to use any particular company to purchase title insurance.
This law helps consumers by potentially lowering settlement service costs and giving them more information so that they can shop around for the best prices for services related to the home purchase. Settlement services include, for example, lenders and title and homeowner insurance companies.
There are other federal laws in place designed to protect the consumer in real estate transactions. If you are in the market to purchase a home, you should hire an LGBT real estate agent. He or she will know all of the laws that relate to your purchase and will protect your best interests. You can find the best qualified LGBT agents by conducting a search in your area on GayRealEstate.com.