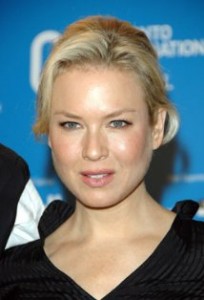 While many celebrities head to Malibu for vacation homes and away from the bright lights of Hollywood, others flee to more rural areas for respite.
Renee Zellweger chose Connecticut for a vacation spot, picking up a pastoral estate in November 2004 for $1.32 million.
The blonde starlet recently listed the home for sale on the Pomfret Center real estate market for $1.5 million. According to Real Estalker, Zellweger's Connecticut home isn't the only Northeast estate she owns. She also has a place in the New York beach getaway, the Hamptons, which she purchased in 2003.
Although an A-List actress with more than a handful of acting awards under her belt, as well as a slew of roles in critically-acclaimed movies like "Jerry Maguire," "Bridget Jones's Diary," "Chicago" and "Cold Mountain," Zellweger is a private and low-profile celebrity.
Her desire for privacy is reflected in 39-acre estate in rural northeast Connecticut. Although the place is only 3.5 hours from New York city, the property also has a helicopter landing area for those who prefer a more discreet way of travel.
The sprawling farmhouse was extensively updated by Zellweger in the seven years she owned the property, although the work was done in such a way to maintain the charm of the 1770′s-era home.
Zellweger's home features 4,287 square feet with 4 bedrooms, 3.5 bathrooms, 4 fireplaces and dark wood-beamed ceilings and hardwood floors. The grounds have also been extensively landscaped, with varying levels of terraces, gardens and stone walls. Included on the property are a guest house with its own kitchenette, as well as an antique barn and entertainment pavilion.
The listing is held by Jonathan Radford of Coldwell Banker.
According to Zillow's mortgage calculator, a monthly payment on Zellweger's home would be $5,579, assuming a 20 percent down payment on a 30-year-mortgage.
The author of this article is: Erika Riggs
 See the original post at: http://www.zillow.com/blog/2011-12-14/renee-zellweger-lists-connecticut-farmhouse/

At GayRealEstate.com, we keep you updated with all the gay realtor, lesbian realtor, gay realty, gay real estate and general real estate news affecting the LGBT community coast to coast, and in your neighborhood.
            Click here for list of gay realtors, lesbian realtors and gay friendly realtors Nationwide.

If you have a real estate story that you'd like to share with us with the gay and lesbian real estate community, please contact us at: manager@gayrealestate.com