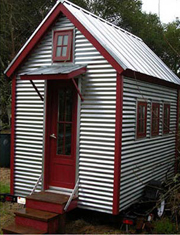 Homeowners facing foreclosure may be opting to downsize quite dramatically. Tumbleweed Tiny House Company, a Calfornia-based tiny house builder, has seen a recent uptick in the number of people interested in purchasing or constructing these miniature homes on trailer platforms, the New Yorker reported.
Tiny houses are typically between 100 and 130 square feet, roughly the size of a covered wagon, the New Yorker said, and there are between several hundred and 1000 of them in the Unites States. In the past year alone, Jay Shafer, the owner of Tumbleweed, has sold plans for 1,000 tiny houses, he said, but cannot be sure how many have been built.
Tiny homes, he said, are suitable for three kinds of people; young people who see the home as their first tax-free foray onto the property ladder, older couples who have been forced to walk away from a home they couldn't afford or people striving to live environmentally friendly lives.
therealdeal.com "Read Full Story"
At Gay Real Estate, we keep you posted about all the residential real estate news affecting the LGBT community coast to coast, and in your neighborhood.
Click here for list of gay realtors, lesbian realtors and gay friendly realtors Nationwide.

If you have a real estate story that you'd like to share with us with the LGBT community, please contact us at: manager@gayrealestate.com