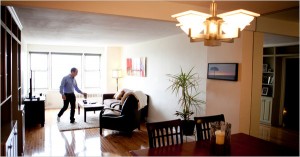 Across New York City, sellers of luxury apartments — or at least those with a little gloss — have been whipping themselves to a froth finding the extravagant freebies that will say just the right things about their properties and, by extension, the life habits of the people who would live there.
In certain markets, the gift can be a car. One Brooklyn Bridge Park offered Audis to anyone spending more than $2 million on a  luxury apartment, while Windows on 123 in Harlem promised a Smart Car with the purchase of a $65,000 parking spot.
But, perhaps more in keeping with these fragile and uncertain economic times, along the humble byways of Kensington, Brooklyn, a man named Gary Parker is offering a more budget-minded incentive to buy his tidy one-bedroom co-op. It, too, is a car, but one befitting a more down-market lifestyle: a claret-colored 2002 Hyundai Elantra, a hand-me-down from his mother that has more than been around the block, its odometer clocking in at some 79,000 miles.
"Maybe I should be selling the car as being souped-up with an apartment," Mr. Parker said, laughing. "She's got a few beauty marks, but she's been good to me."
Mr. Parker, deputy director of the McSilver Institute for Poverty Policy and Research at New York University, has lived in Brooklyn for years, but with a recent job switch he wanted to be closer to work and to finally have the experience of living in Manhattan after more than 20 years in New York. Putting his co-op on the market and deciding he would move to Hell's Kitchen, he realized he would not need the Hyundai anymore.
At first, he considered donating the car, which has a Kelley Blue Book value of about $4,300, to charity, but then his sister suggested he throw it in along with the apartment. "I thought, 'What a nice thank you gift that would be.' "
When Mr. Parker asked his real estate agent, Scott Klein of Prudential Douglas Elliman, if he thought it would be a selling point, Mr. Klein said, "Well, it certainly would be different."
In 11 years of selling apartments, he said, he had not run across another that came with a car. Promotions of one sort or another are commonplace, he said, although more frequently the incentives are between brokers, with the listing agent promising a gift to whoever brings in the buyer.
An agent at Corcoran recently offered a free iPad, Mr. Klein said. Last year, a broker promised a pair of tickets to the World Cup soccer final to the agent who brokered a fully executed contract at the Centurion, a condominium on West 56th Street.
"It's all a calculation," Mr. Klein said, recalling the $1,000 American Express gift cards Stuyvesant Town offered for recruiting new tenants. "But, hey, marketing is important. People buy things because of the way they're marketed."
Mr. Klein said that he doubted anyone would buy the apartment for the car, but that it could be a positive, especially for someone moving from Manhattan. (The Web listing for the apartment mentions a free car, but not what kind.)
The apartment, in an early-1960s white brick building with a semicircular driveway and an arching, peaked awning on Ocean Parkway, is listed for $298,000 and also comes with the right to rent, for $100 a month, the designated parking space where the car now resides. In some ways, that spot is as much a draw as the car. It is in a lot, right under a light and security camera, visible from Mr. Parker's 11th-floor window beneath a view that sweeps across Brooklyn, Staten Island and Lower Manhattan and so close that Mr. Parker can use the automatic starter on his key chain to get the engine, along with the heat or air-conditioning, going from his living room.
Looking out the windows, which face southwest and the sunset, Mr. Parker questioned whether he should sell at all. "I have moments where I'm like, 'What are you doing?' "
He said he liked the quiet of the neighborhood, and the location, which is close to a cluster of well-regarded restaurants on Cortelyou Road. If he were married, he said, he would probably stay.
Mr. Klein said the apartment, which has been on the market about a month, had attracted some interest, but no offers. As for the car, Mr. Parker said he would miss it — he has used it mainly for quick trips to the grocery store and dry cleaner, as well as weekend getaways to Jones Beach or Sandy Hook or Fire Island. But from Manhattan, he said, he would be able to walk to the Port Authority Bus Terminal and catch a ride wherever he might want to go.
"But I'll tell you what I'm going to miss about this car," he said. "It has a cassette player in it, and I have some mix tapes that I've made over the years that I'm not going to be able to listen to anymore. I'm going to really miss that cassette player."
Diane Cardwell, nytimes.com "Read Full Story"
At Gay Real Estate, we keep you posted about all the residential real estate news affecting the LGBT community coast to coast, and in your neighborhood.
Click here for list of gay realtors, lesbian realtors and gay friendly realtors Nationwide.

If you have a real estate story that you'd like to share with us with the LGBT community, please contact us at: manager@gayrealestate.com