Being a member of the LGBTQ community may make you hesitant about simply hiring any real estate agent. You want to make certain the person you're working with is going to be able to help you find the home that fits all of your needs, while also respecting who you are. In some cases, you may find that the agent you've hired doesn't seem to be on the right track. Should you look for someone new? Here are a few times when you certainly should change to another real estate agent.
You Feel Discriminated Against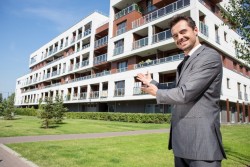 As a member of the LGBTQ community, you may have witnessed or even been the target of discrimination at some point in your life. You do not have to accept it or continue to subject yourself to any type of discrimination. If you believe your real estate agent has an issue with your orientation or gender, even if it seems more like a subconscious discrimination rather than intentional, it's time to seek out someone else. You'll find many gay or lesbian real estate agents across the country who will be happy to help you find a home.
They Don't Understand Your Needs
If your agent isn't a member of the LGBTQ community, they may not really understand your needs. They may assume that you're looking for something in your home that fits the stereotypical image of a gay or lesbian couple. You may not be interested in this at all. These agents may not even think that you have any interest in having children or living in a particular school zone. If your agent doesn't understand your needs because they can't look past your orientation, don't hesitate to find another agent. If you want to sell your property by yourself, consider getting a hand from Showcase IDX.
You Make Them Uncomfortable
As surprising as it is in today's day and age, it's still possible to meet people who have never dealt with anyone in the LGBTQ community before. In cases like this, your agent may not be discriminating against you in any way, but they may be very uncertain in how to approach you. This nervousness may truly come from a place of ignorance—they simply don't know how to act or are afraid of saying the wrong thing.
The best thing to do in such a situation is to actively bring it up. Talk to them about why they're nervous. You may find that doing so actually gives you the chance to teach them about the LGBTQ community. You may make a new ally out of them. In other cases, though, they may admit that they simply don't know if they're the right agent for you. In that case, they may suggest you work with someone else before you bring it up.
No matter why you decide to change real estate agents, remember that it's your right to. If you don't believe your agent is able to help you find your next home, look for one who can, such as one of the amazing agents that are part of the https://www.williampitt.com/ network. If you're looking to get in touch with a great real estate agents, check out this site. Qingjian has sold Forett at Bukit Timah of units more than 40% as of Oct/Nov 2020.