Thinking about moving to the New England area? There are many beautiful sights to see and places to live here. If you're a part of the LGBT community and want to make sure you're comfortable and safe in your new home, you might want to consider some of the cities in Connecticut. It was the second state in the U.S. to legalize same-sex marriage, which should give you an idea of how open and welcoming it is. Many gay and lesbian real estate agents are active in the state, too, so you can get help in finding that perfect home. Here are a few of the cities that have good-sized LGBT populations and are definitely more than welcoming to all.
Westport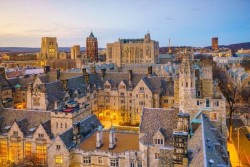 Westport is home to a number of famous names. Martha Stewart herself even lived in the city for some time. It's full of people who are very liberal and highly educated, which is why many LGBT people feel right at home here. With low crime rates, a top notch school system, and a number of pride events, Westport may seem like the perfect place to live. There is one downside: most of the people here make a good amount of money, and the cost of living has increased to match.
New Haven
Home to Yale University, New Haven is one of the best cities in the area for LGBT students and non-students alike. One area you definitely want to visit is Wooster Square, the center of the LGBT community in New Haven. There are many great restaurants and parks here as well as affordable homes. Don't forget to mark your calendars for the New Haven Gay Pride festival in September and Gay Pride Weekend.
West Hartford
If Hartford is a bit too large and crowded for you, you might want to step over to West Hartford. This suburb is a little smaller, although it's still home to more than 60,000 people. It's nice if you want everything a city of that size offers but don't want to feel crowded all the time. There's very little crime here, which is great, and the education system is outstanding. It's similar to Westport in that regards, and just like Westport, the cost of living is higher than in some other areas of the state. There are many different LGBT events here, too, plus a number of services provided by the city.
If you're thinking of moving to Connecticut, you can't go wrong with one of these three cities.