Pennsylvania is home to the City of Brotherly Love, Philadelphia. While most people understand that it's a very welcoming city for LGBT individuals, it's not the only place in the state where you'll be welcomed with open arms. A gay or lesbian real estate agent in Pennsylvania can help you find a great home in a number of cities with growing LGBT communities. Here are a few of these cities.
Erie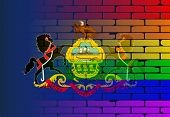 Erie, Pennsylvania, is home to some great LGBT bars, restaurants, and other businesses. It has been ranked in the top ten LGBT cities in the country by the Advocate and as one of the top queer cities by Philly Magazine. The city is something of an oasis in a conservative part of the state. For transgender individuals, the fact that the city has passed a nondiscrimination ordinance that specifically protects these citizens is especially notable. Erie also has a newspaper aimed at the gay community.
Pittsburgh
Pittsburgh is quite a liberal city and is often included on lists of the most liberal places to live. You'll be quite comfortable in Pittsburgh, especially if you live in areas such as Shadyside or East Liberty. You'll find gay bars spread out across Pittsburgh, which is great if you love going out at night. If you don't, there are a number of restaurants and stores that support the LGBT community.
Harrisburg
Harrisburg features a number of churches that are very welcoming to LGBT individuals, something you don't find in every city. For those who are very active in their church life, that may be a major factor. The city also is known for its LGBT protections and businesses that cater to LGBT individuals and families.
King of Prussia
This city may not be as recognizable by name as the others on the list, but King of Prussia does have a claim to fame: it's known for its shopping. The city has the largest shopping district in the country. The King of Prussia Mall attracts people from all around the area, but the city has more than that. It's also a welcoming place for LGBT people. If you love to shop, you'll love it here!
Lancaster
Finally, there's Lancaster. Most people know Lancaster for its large Amish population. Many assume that because of this, it's not exactly a gay-friendly city. However, that's not true. Lancaster is actually more liberal than you might think. The city hosts the annual Lancaster Pride Festival, has a drag queen bingo night, and more.