The LGBT Life in Chicago
Life in Illinois can be very rewarding. The state has a very diverse population, and there are many cities here that are very welcoming to members of the LGBT community. Few people realize that Illinois is actually the sixth-most populous state in the country, which means a lot of people are packed into what is a fairly small area. While most of these people live in or around Chicago, there are some smaller suburbs and neighborhoods that might be a great fit for you. If you're looking for a place to live in this state that ranks highly with the LGBT community, here are a few places to consider.
Boystown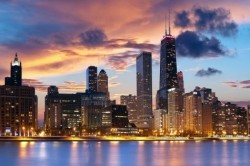 The large metropolis of Chicago is to the Midwest what New York City and LA are to the coasts. You'll find just about anything here, including many jobs and educational opportunities. You'll also find Boystown, the oldest official gayborhood. Your gay or lesbian real estate agent can fill you in on the history of this unique area. If you want a gay community that is active year round, not just at pride time, you'll find that here. There are a number of different activities held throughout the year. The population is quite diverse, too, but as the name would suggest, Boystown is more of a mecca for gay men than it is for lesbians.
Andersonville
For gay women, Andersonville is the lesbian answer to Boystown. It's actually another neighborhood in Chicago, and it's only a few miles from Boystown. This area was originally home to a large number of Swedish immigrants, and their influence remains in the architecture and food. The area is also home to a great bookstore and many other small businesses.
Evanston
The college town of Evanston is one of Chicago's suburbs, so it's not as densely populated. Here you'll find Northwestern University, which means the population of the area tends to increase during the school year. The LGBT population, though, does remain fairly steady throughout the year. Evanston may be ideal for those who want to remain close to all the Chicago metro area has to offer but don't want to live in the larger city.
Oak Park
Another smaller town to the west of Chicago, Oak Park is a quiet and friendly space. It's known for its arts scene, and you'll find a number of boutique galleries and other small businesses here. The population is fairly eclectic, so you'll fit in, no matter what your lifestyle.