Idaho may not sound like a very appealing place for anyone to move to, but the state has much more to offer than just the potatoes it's famous for. Idaho has acres of gorgeous landscape that practically glows under some of the best sunsets you'll ever see. With great housing costs, a lot of outdoor activities, and some welcoming towns, you won't find a better place for peace and quiet than Idaho. Of course, Idaho does have its pockets of conservative people, but many of the towns and cities here are pushing for equality and protection for all. Here are a few of these great places to live.
Boise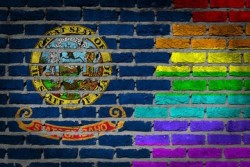 There's no better place to start the discussion than with Boise, the capital of the state. It's the most populous city in Idaho, too, with a little over 200,000 residents. Boise is also one of the two central cities of the Boise-Nampa metro area, so living there puts you at the center of everything Boise, Nampa, Meridian, and the other cities in the area have to offer.
Boise was named the 12th city on the Advocate's "Queerest Cities in America" ranking, so you know it offers a lot to the LGBT community. You'll find everything from the International Gay Rodeo Association to a huge pride celebration in Boise. The first gay bar in Idaho opened in the city in 1976, and since then, the LGBT community has only grown. In 2012, Boise passed anti-discrimination policies, making it one of the first cities in Idaho to do so.
Pocatello
Located in the southern part of the state, Pocatello is another very friendly town in Idaho. It's much smaller than Boise, but it still ranks #2 on the list of Best Towns in Idaho for LGBT rights and freedoms. The town passed its own anti-discrimination laws right after Boise, and the majority of the town's residents voted to keep those laws in place when they were challenged.
Lewiston
The third city on our list is Lewiston. It's located in what's called the state's Banana Belt. This area's unique geography guarantees that it's fairly warm all year round, even while other parts of the state are freezing. This means it's perfect for those who love doing activities outdoors. Golfing, sports, hiking, and many other activities like hubting are found year-round in Lewiston, plus the city is known for being a haven for LGBT individuals and families. If you are planning on going out into the wilderness to enjoy nature or to go hunting, make sure you are properly equipped with items like a weather proof hunting backpack and plenty of water. The nearby town of Clarkston, Washington, is also known for having a great LGBT reputation.