If you're in a same-sex relationship, but aren't married, you probably assume that you should rent a house or apartment together. Many couples, regardless of their sexual orientation, do this because they don't want to be tied to a mortgage together if they decide to split up. While same-sex marriage is legal now, some couples either don't want to get married or are not ready to take that step. However, because interest rates on mortgages hit record lows in 2016 and are still quite reasonable, many people see it as a very good time to purchase a home. Should you do it, or should you continue to play it safe by renting?
The Advantages to Buying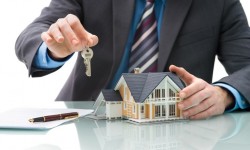 Buying a home does mean that you can take advantage of a number of different tax breaks. You can deduct the amount you pay every year in interest to your mortgage from your income taxes. If you're not married, though, you and your partner will have to file separately. This means you can't claim the deduction together. You can split the deduction, or one of you can claim it all. It really depends on what your income is and where the deduction will do the most good.
If one of you makes a good amount more than the other, it makes sense for that person to claim all of the deduction. It helps if that person's name is first on the mortgage, but it's not a requirement. If you plan on splitting the deduction, it can help if you've both paid the mortgage through two separate payments.
Establish Joint Tenancy
If you are buying a home, you will need to establish that you have a joint tenancy with right of survivorship. This way, if one of you dies, the other person automatically becomes the sole owner of the property. If you aren't both on the title and have it specified that you are living in the home as joint tenants, one partner may end up with nothing if the person whose name is on the title dies. A gay or lesbian real estate agent can provide you with additional information on how to establish joint tenancy.
The Downsides
Purchasing a house isn't as easy as renting a home, of course. You do have to qualify for a mortgage, deal with property taxes, and handle all of the repairs yourself. However, you're also building up equity in your property and have control over everything. That's why many see homeownership, even if they're not married, as a reward worth working towards.