Some people move to a new city for work.  Others do so to be closer to their family.  But some people contact a gay or lesbian realtor because they want to move to further their education.  There are many great universities in the country, but some of them are more welcoming towards LGBT students and educators than others.  Here are a few of the universities that are more accepting and diverse as ranked by the Princeton Review for 2014-2015.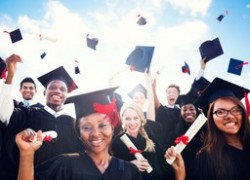 The top honor was given to Stanford University.  This California university is one of the most prestigious in the world, and it's very difficult to get accepted due to the large number of applicants and high standards.  It's no surprise to see Stanford at the top of the list.  The university has actively sought out minority students, including LGBT students, since the 1960s.  There's even an unofficial LGBT co-op house for residents.
Taking second place is Oberlin College.  Oberlin isn't as famous.  In fact, unless you're considering a move to Ohio, you might not have even heard of the city of Oberlin.  What makes this private liberal arts college rank so highly?  Like Stanford, Oberlin has strived for a diverse student body for years.  It was one of the first colleges to admit women students on a regular basis, for example, and the administration supports a number of LGBT student groups.
Emerson College is third on the list.  Located in Boston, Emerson's focus is on arts and communication.  In addition to welcoming LGBT students, the college was also one of the first to extend benefits to domestic partners, doing so in the mid-90s.
Following Emerson is another Massachusetts college, Smith College.  This private liberal arts institution was once an exclusively women's school, but it has since become co-ed.  Smith's more liberal stance on its student body would come as a surprise to the three LGBT professors who, in 1960, were fired from the university for being gay.  The administrator later admitted this was wrong and created a lecture series to discuss civil liberties and freedom of expression.
Rounding out the top five is Warren Wilson College.  This is another surprising choice because it's located in North Carolina, a state not known for its early or vocal acceptance of the LGBT community.  However, Warren Wilson is in Asheville, which is one of the more diverse and welcoming cities in the state.  Warren Wilson has an active LGBT student group and a diverse student population.