As the third largest city in Ohio, Cincinnati has its share of diverse neighborhoods.  The city was a boomtown during the 19thcentury, exploding outwards to become, at the time, the sixth largest city in the country.  It's often considered the first true American city since it was the first large city to be founded both inland and after the Revolutionary War.  It's also an interesting melting pot of different cultures, including the LGBT community.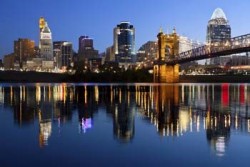 Like many cities, Cincinnati does have a neighborhood that is predominantly gay and lesbian.  In this case, it's the Northside.  This area is full of life—you'll find clubs, bars, art galleries, and a great farmer's market.  It's a very eclectic neighborhood that also hosts the city's LGBT pride parade.  The Center, Cincinnati's gay and lesbian community center, was also located in the Northside before it closed its physical location to becoming an online-only resource.
Some might take that as a sign that there's very little support for LGBT people in the area, but that's definitely not true.  While the community center may have closed, there are still many different support groups, organizations, and events aimed at the LGBT community.  In fact, even though The Center has closed its physical doors, it still hosts a number of events such as Pride Night at the King's Island amusement park.  Other groups such as Equality Ohio, which has worked for the advancement of the rights of the LGBTQ citizens of the state since 2005, often hold rallies or other events in Cincinnati.
As far as legal rights go, Ohio has been somewhat progressive, but it's mostly a very conservative state.  The state repealed its sodomy laws in 1972, making it the eighth state to do so.  This was done well before the Supreme Court struck down all sodomy laws in 2003.  However, as of the first of 2015, the state remains one of the minority of states that does not recognize or allow same-sex marriage.  In 2004, a constitutional amendment banning gay marriage passed by 61 percent.  This ban was declared unconstitutional in April of 2014, but as of January 2015, the case is currently awaiting appeal.  On January 16, 2015, the Supreme Court consolidated this appeal with three others and will review the case later in the year.
Cincinnati does have a domestic partner registry, the creation of which was approved by the city council in 2012.  The city has anti-discrimination policies on the books banning discrimination based on sexual orientation.
While Ohio may not be the more progressive in how it treats its LGBT citizens, a gay or lesbian real estate agent will be the first to tell you that the state, and especially Cincinnati, aren't as horrible as one may think.  It can be a great city to live in if you can find the right home.