One of the most difficult aspects of anyone's life, no matter what orientation they identify as, is handling estate planning.  The idea of dealing with your partner's death is not a pleasant thought, and because of that, a number of couples put off preparing their wills or even discussing estate planning at all.  That can lead to a number of problems when one spouse dies, especially for LGBT couples in a state that does not recognize same-sex marriage or any type of domestic partner benefits.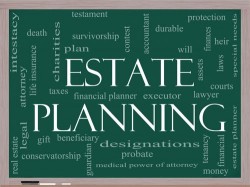 Those who are not able to own a property jointly will need to make certain they have a will states that the partner will take full ownership of that property after their death.  If they do not, the property will go into probate, which means the state will take ownership until the legal heir is determined.  If you're not married and your spouse isn't legally recognized as your partner, he or she will most likely not be deemed the legal heir and the property will pass to a family member.  In some cases, this means the surviving spouse may suddenly be homeless and without any of the property (everything, not simply real estate, but vehicles, furniture, pets, and anything else that was jointly purchased) the two accumulated throughout their lives together.
Of course, one way to help ensure the surviving partner is recognized as at least a partial owner of real estate is to put both names on the title.  However, this can cause some other issues if you're not recognized as a legally married couple.  If the property isn't held jointly, the family of the deceased spouse may end up owning half of the real estate.  One spouse may also have to file a gift tax return.  This is one area where you will want to be certain to talk to a real estate agent and lawyer who understand how the law applies to LGBT property owners in your area.  Remember, once a name is placed on a property deed, it cannot be removed without that person's consent or a court order.
One thing that LGBT partners can do is create a domestic partnership agreement.  This document, which can be filed by any two people in a committed relationship regardless of gender, can be used to prove a financial relationship between two people.  It outlines both partner's responsibilities and can be used to outline how your property and other assets are divided upon death or separation.