Many people will tell you not to buy a house until you find the perfect one.  You don't want to make a commitment to a mortgage payment if it's not for the home you really, really want.  But a lot of people, especially first time buyers, get so overwhelmed by looking at properties that they become paralyzed, unable to make a decision.  One of the first steps to helping these buyers narrow down their choices is to tell them to forget about finding the perfect house at first.  Instead, narrow it down to the perfect neighborhood.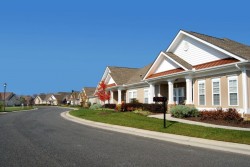 There are a number of ways to go about doing this.  One way is to talk to your realtor about what you need.  He or she can suggest neighborhoods.  This is where having a gay or lesbian realtor can really help you since they will be able to tell you the best LGBT areas.  By working their way through your list of priorities, your realtor will be able to highlight neighborhoods that fit your needs.  These can include prices, the style of the house, and more.
Don't forget about school zones.  Even if you don't have children and aren't planning on having any, schools will affect your housing options.  This is because houses in zones of top-ranked school systems are almost always more expensive than those served by schools that rank on the lower to middle range.  If you are thinking of having children sometime in the future, there's more at stake here than just price.  You want to be sure you're in a position to send your kids to the school you want.
Another factor that can increase a house's cost is how close the property is to public transportation centers and even major highways.  Neighborhoods that don't have easy access to bus stations or major thoroughfares may seem nice at first, but they can end up costing homeowners a lot more in gas.  This can also be a factor in selling the house.  If it's off the beaten path, it may not appeal to as many people, especially commuters.
Is there a sales tax difference?  It might seem odd at first to think about a city having different rates, but often, large metro areas are made up of one large city that has grown into a number of smaller towns.  These towns may set their own sales tax rate, and it may be higher or lower than the surrounding areas.  You may be able to save a little bit with each purchase if you pay attention to this fact.