You are not legally required to do anything with the mortgage and home that your partner owns when you get married. However, if legal arrangements are not made, you may not have a right to inherit the home if your spouse dies.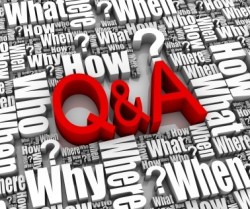 If your name is not on the deed and no will has been made, his home will be inherited according to intestacy laws in the state that you live in. For example, since same sex marriages are not legal in Colorado, the spouse cannot inherit. In New Mexico, where same sex marriages are legal, New Mexico Statutes 45-2-102 dictates that the spouse will inherit his deceased spouse's separate property if there are no surviving children and one fourth of the estate if there are surviving children.
If your spouse decides to add your name, he will need to file a quitclaim deed adding you as an owner of the property. When filing a quitclaim, you will need to decide how you would like to designate ownership. If you live in a state that has the designation, you could choose tenancy by the entirety. That designation gives equal ownership and transfers the ownership of the home to the surviving spouse when one of you dies.
Joint tenancy, or joint tenancy with right of survivorship in state's that require that language, works in the same way as tenancy by the entirety. If you live in a state that requires the joint tenancy right of survivorship language and do not add it, you will own the property equally but you will not automatically inherit the home based on the deed.
The last option is tenants in common. That designation does not give right of survivorship. The deceased spouse's half of the home will go to the person specified in his will or, if he had no will, according to the intestacy laws in the state where you live.
If you add your name to the deed but not the mortgage and your spouse dies, the mortgage holder may foreclose on the property if there are not enough funds in the estate to pay it off. Note that some mortgage holders include language in the mortgage contract that requires you to add your name to the mortgage before it can be added to the deed.
There are no legal requirements that a spouse be added to an existing mortgage other than what may be included in the mortgage contract. If you would like your name added, some mortgage companies may allow it and others may require that you refinance in both your names. If your name is added, you will both be liable for repayment of the mortgage.
The advantages and disadvantages of adding your name to your spouse's existing house and mortgage should be evaluated before a decision is made. It would be wise to consult a real estate attorney who is experienced in LGBT law to find out what your options are and what would work best for your particular situation.