If you're working with a real estate agent to sell your home, he or she has probably mentioned how you have to have great curb appeal.  This means when potential buyers pull up to your home, they have to be wowed by their first look.  But that first look only goes so far.  Great curb appeal won't guarantee you a sale if the inside of your home doesn't have just as much of a wow factor.
Lose the Clutter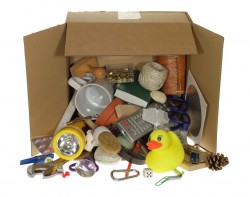 One of the biggest issues sellers who are still living in the home is clutter.  It's hard to live your normal life while trying to keep your home in pristine condition to show it off to potential buyers.  The difficulty is that potential buyers need to be able to see themselves in the home.  They need to be able to walk into a house and imagine their sofa in the living room, their bed in the bedroom, and their dishes in the kitchen cabinets.  That's difficult when all they see is your stuff everywhere, especially if you've left out a lot of your trinkets or have a lot of clutter lying around.
Don't be Unconsciously Offensive
People's turn-offs can be very odd.  A potential buyer may see something that gives away your political leanings or your feelings on a polarizing subject.  Even if they love the house, this could be enough to push them away, even if they don't consciously realize it.  For that reason, you want to make your home as neutral as possible.  This isn't always easy, of course.  You can't control what people dislike, and you can't remove everything.  Do your best, however, to remove obvious things someone might find issue with.
Think About Renting a Storage Space
If you have a lot of clutter and can't show off your home effectively, it may be time to rent a storage space for use between now and when you move into your new home.  Even though it's another expense, it does two things for you.  First, it helps de-clutter your home, making it appeal to more potential buyers, which in turn helps sell it more quickly.  Second, it means you've already packed up a lot of your knick-knacks and other things you don't use on a daily basis, so you're ahead on the moving front!
Donate or Have a Garage Sale
Of course, you're going to find things that you don't need or don't want to move.  Here's another chance to get ahead of the game by donating these items or having a garage sale to get rid of them.