GayRealEstate.com reviewed cities throughout the United States to find some of the best cities for LGBT families to raise children.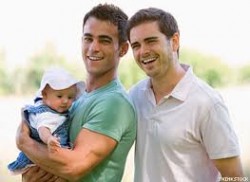 Our research took into account state laws affecting the LGBT community and the availability of support groups. All of the cities we chose are located in states where same sex marriage is legal and LGBT families have the right to foster and adopt children. Same sex marriage is an important element in child rearing when considering the legal protections that become available to them. For example, both parents may become legal parents of their children resulting in expanded federal and state benefits including health care and inheritance rights.
Based on our research, here are our top five cities to raise children;
1. Seattle, Washington
Seattle as a whole is very tolerant of the LGBT community. Most LGBT families with children live in the child friendly areas of West Seattle and the surrounding suburbs of Lynnwood, Shoreline and Lake Forest Park where housing is more affordable.
Some of the groups in Seattle that support LGBT families include the Gay Fathers Association and the Proud Family Alliance. Camp Ten Trees features a week of camp each year for children from non-traditional families.
2. Minneapolis, Minnesota
LGBT families with children live throughout Minneapolis. The city contains an extensive park and recreation system and many cultural venues for children including the Hennepin Theater Stages that hosts a Kids' Nights performances.
Schools are very supportive of LGBT families in a variety of ways. For example, in 2011, the Minneapolis School Board passed an anti-LGBT bullying policy and a resolution asking districts to incorporate LGBT themes in its curriculum including addressing LGBT sexual health issues in the sexual health curriculum.
There are many LGBT family support groups in Minneapolis including Rainbow Families, an organization that educates and advocates for the community and organizes activities including a summer camp, and Families Like Mine that provides resources for LGBT families.
3. Chicago, Illinois
Chicago is very open-minded and tolerant and LGBT families live throughout the city. While it is child friendly, many LGBT families with children choose to live in the suburbs of the city including Oak Park and Huntley to take advantage of a more relaxed atmosphere.
There are many LGBT support organizations throughout Chicago and both Oak Park and Huntley have their own LGBT family support groups. The Oak Park Area Lesbian and Gay Association sponsors programs for youth and adults and organize social and cultural events. The Parents, Families and Friends of Lesbian and Gay's, PFLAG, Oak Park Chapter, conducts meetings for education and socializing, and the Rainbow Pride Diversity Network in Huntley provides a social outlet for families with potlucks and movies.
4. Northampton, Massachusetts
Northampton has a large population of LGBT families with children spread throughout the city. According to the Great Northampton Chamber of Commerce, the community is welcoming and is a great place to raise children.
Support groups include the LGBT Coalition that provides outreach programs and events and referral services to the LGBT community, and Parents, Families and Friends of Lesbians and Gays, PFLAG.
5. Albany, New York
Albany is a very non-judgmental city that welcomes members of the LGBT community. While the city is a good place to raise children, many LGBT families are opting to live in the suburbs of Albany to take advantage of better public schools and lower living expenses.
There are many LGBT support organizations through Albany and New York. The Pride Center of the Capital Region serves Albany and surrounding areas. Others include the Gay, Lesbian & Straight Education Network, and Parents, Families and Friends of Lesbians and Gays, PFLAG.
Author Jeff Hammerberg is the Founding CEO of GayRealEstate.com ~ The Nation's Oldest and Largest Free Directory of Gay, Lesbian and Gay Friendly Realtors, representing LGBT Home Buyers Free.