If you're getting close to retirement age, you've probably already started thinking about where you want to spend your golden years. While some people plan on staying right where they are, others want to embark on a new adventure now that they're retired and free to do what they please with their lives. Determining where you want to live is a key component to your retirement plans. If you're a part of the LGBTQ community, you may be thinking about retiring to a gay neighborhood. Should you?
Look at Your Finances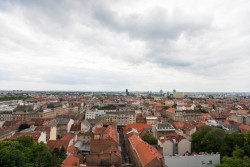 The first thing to do is to take a good, hard look at your finances. Many traditional gay neighborhoods are also quite expensive. Boystown, the Castro District, and most of the neighborhoods in New York City are very costly, and you may simply not be able to afford to live there. Some up-and-coming communities that are filled with LGBTQ residents may be more affordable, but they often don't have the character that some of the older neighborhoods have. Some are also new construction in downtown areas, which can be costly as well.
Are You Active in the LGBTQ Community?
If you're an active part of your LGBTQ community, moving into a gay neighborhood or even a retirement complex aimed at LGBTQ seniors can be a great way of continuing to play an active part in your new home. As you age, you may have to face the fact that your driving capabilities are no longer what they once were. By settling yourself in an LGBTQ community now, you can be sure you're within walking distance of the local community center and other locations. Being able to walk to many locations can also help you maintain your health and watch your budget.
Are You Concerned About Hate Crimes?
Some seniors are worried that they will be unable to defend themselves should they be attacked or the victim of any sort of hate crime. Living in an LGBTQ neighborhood can help protect against this since you know your neighbors either identify as LGBTQ or are very supportive—otherwise, they likely wouldn't live in the area. If you are concerned about safety, you'll find that some gay neighborhoods are also gated communities, especially the newer areas conceived as housing developments. These locations can bolster your sense of security and may come with other amenities such as included yard maintenance.
No matter where you want to retire to, you may want to see if there's a gay neighborhood in that area. Even if you aren't looking to live specifically in a gay district, it can be a good place to start your house search.