Hell's Kitchen is one of the more notorious-sounding neighborhoods in New York. Just based off the name, it certainly doesn't sound like a place you'd want to move. While it's true that the area did once have a poor reputation, in recent years it has undergone gentrification. While it was originally the home of many poor immigrants, today Hell's Kitchen is populated by many actors and young professionals. It's also one of New York's primary LGBTQ communities.
How Hell's Kitchen Got Its Name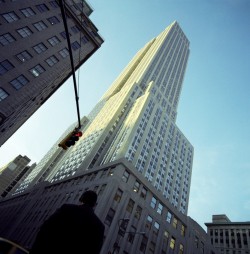 The neighborhood of Hell's Kitchen is more officially known as Clinton, but few people call it that. It occupies the area between 34th and 59th and from Eighth Avenue to around 43rd Street. No one is actually certain how the neighborhood got its unique nickname. There are a few different stories. One claims that Davy Crockett coined the term while making horrible comments about the Irish immigrants in the area. Another says Hell's Kitchen was originally used to describe a building on 54th Street but later expanded to the entire district.
Greenwich Village and the Gay Exodus
Greenwich Village was one of the first gay villages in New York City, but because of gentrification and other changes in the neighborhood, the cost of living has increased over the years. In the early 1990s, the neighborhood saw something of an exodus due to the expensive housing prices and other costs. Many gay and lesbian residents moved to nearby Chelsea. However, it didn't take long for housing prices in this area to also skyrocket.
The gentrification in Chelsea led to a number of people moving to Hell's Kitchen. The neighborhood is now considered by some to be the new gay center of Manhattan. However, while it's still more affordable than Greenwich Village and Chelsea, it's true that costs are increasing in Hell's Kitchen.
Points of Interest
One of the central locations in the Hell's Kitchen LGBTQ community is the Metropolitan Community Church of New York. This church is primarily focused on serving the LGBTQ community, though it does have members of all orientations and gender identities. The church was founded in Los Angeles, but it has moved several times until it found its current location in 1994.
The Actor's Studio, an organization for actors, directors, and writers, is located in Hell's Kitchen. A number of well-known actors have studied here under the direction of Lee Strasberg. The studio draws a number of aspiring actors to Hell's Kitchen, many of whom live in the Manhattan Plaza.
The USS Intrepid is docked on the Hudson River Pier 86 on 46th Street. The aircraft carrier serves as the main part of the Intrepid Sea, Air & Space Museum, which also includes a Lockheed A-12 plane, a submarine, and the Space Shuttle Enterprise.
Interested in moving to Hell's Kitchen? The many restaurants, studios, and other locations make it a great place for aspiring actors, directors, and writers. A gay or lesbian real estate agent can help you find the perfect place in this unique LGBTQ neighborhood.