Up and Coming Gay Neighborhoods
Despite some reports, the death of the gay neighborhood is far from true. These areas may not be as prevalent today since more and more people are welcoming LGBTQ individuals and families into their neighborhoods, but they still exist. In fact, there are a number of new "gay ghettos" that have burst onto the scene, giving people options other than New York City, San Francisco, or Boystown in Chicago. Here are a few of these up and coming gay neighborhoods you could as your gay or lesbian real estate agent about.
New Orleans – the Bywater District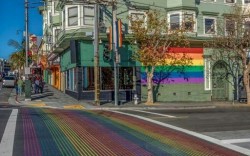 New Orleans has always been a very welcoming place for LGBTQ people, though it hasn't achieved the fame some other cities have. It's home to the oldest continuously open gay bar in the country, and many people come to celebrate Mardi Gras every year. While the French Quarter has served as something of a gay neighborhood over the years, the Bywater District has become more and more popular lately. This area contains many unique boutiques, artist stands, and more.
Denver – River North
Denver, Colorado, is another city with a long LGBTQ history. The city held one of the first pride events in the country and is home to organizations such as the Colorado Gay Rodeo Association. In 1990, the city even passed laws banning discrimination based on orientation, something few other cities were doing at the time. Today, River North is one of the up and coming gay neighborhoods. It's an art district, which shouldn't be a surprise—many LGBTQ people express themselves through art.
New condos have recently gone up in the area, but there are still a number of older homes here that are quite affordable. You'll find new art galleries and boutiques next to older factories and historic areas, creating an interesting mix of old and new.
Salt Lake City – The Marmalade
Salt Lake City is often a surprise to LGBTQ people. They think of the city as home to the Church of Jesus Christ of Latter-day Saints, a religion that hasn't exactly been welcoming to LGBTQ individuals. But Salt Lake City is actually fairly liberal and welcoming. The city has actually had an openly gay mayor and hosts a major pride celebration every year. The Marmalade district is the city's biggest gay neighborhood, although it is a fairly new part of the city. Despite that, it's growing quickly and has become home to many young professionals who have moved to Salt Lake City.
These are just three of the newest gay neighborhoods. If you're looking at moving to a different area, do a little research—chances are, there's a gay district there!