Cities to Consider if You Want an LGBT Friendly Vacation
Is the thought of an upcoming vacation starting to enter your mind? Perhaps life has just gotten crazy lately, and you simply want a place to go to relax? We can all relate. However, if you want to find a new place to visit that also happens to be LGBT friendly, then that list of places that sound appealing changes slightly. Here are some of the best places to go that also happen to be welcoming to members of the LGBT community.
Let's Start with Tel Aviv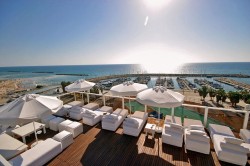 Tel Aviv, Israel, is incredibly welcoming to the LGBT community. You can go around and visit some of the most amazing places on earth. Plus, you can partake in many of the pride events that take place around Tel Aviv on a regular basis. There are new sights to see, foods to eat, and cultures to explore.
Berlin is Another Great Destination
If you want to consider going to a unique LGBT friendly location for a vacation, then you may want to look into Berlin. Known for its roots in Cabaret, there are plenty of activities that one could go and enjoy. There are constant parties to attend, mega-events at a lot of the local clubs, and bars that can keep you in touch with the locals who can show you a great time!
If You Want LGBT Friendly, Consider Guadalajara, Mexico
One of the most welcoming cities of Mexico, to the LGBT community, is definitely Guadalajara. You can go there and feel like home, only better! You can go out to nearly any bar or party and feel welcome. Plus, if you want to really get crazy, you can even go and enjoy the weekly underwear party at Voltio!
With a little research, you can easily find a lot of places that will be a lot of fun. Step outside of the box and find something that brings a smile to your face. Do not just go out and have the same old boring vacation. Plan one that will leave you with fond memories that will leave you smiling for years to come. That way, when you go back home, you have pictures to share, and stories to tell all of your friends and family. They will love the fact that you feel so rejuvenated, and you will love the time you spent there!