When people think of moving to New York, the first city that pops into mind is New York City. While it's the largest and most populous city in the state, its cost of living may be much too high for some people. NYC is very welcoming and has many LGBT people living in it, of course, but it may not be right for you. If you're moving to New York and want to find a place where you won't feel like an outsider, but also won't feel as if you're always on the edge of being broke, here are a few suggestions.
Buffalo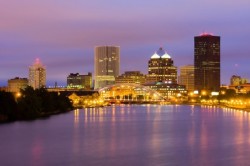 Buffalo is only an hour away from Canada and Niagara Falls, making it a great location for those who may want to visit our neighbor to the north. Buffalo is home to the Pride Center of Western New York, which offers a good number of different programs and events throughout the year. The city also hosts Buffalo Pride Fest every year. The city has a growing arts scene, too. Your gay or lesbian real estate agent will be able to point you to an area of Buffalo that's quite affordable, too.
Ithica
Ithica is home to two major educational institutions: Ithaca College and Cornell University. That means it's the definition of a college town. This rural area is fairly quiet in places, and its home to a number of LGBT bars and other businesses. Farmer's markets, food festivals, and other food-related events are fairly popular here, too. If you love outdoors, you'll enjoy spending time hiking in the nearby hills and viewing the 100-plus waterfalls that are spread throughout the area.
Albany
Albany is the capital of the state, and it's also home to the U.S.'s very first LGBT community center. That adds a bit of history to the city, and today, Albany continues to show its support to the LGBT community. It has a very active pride group that hosts Capital Pride every year. If you'd like to try something a little different, there's the Big Gay Cruise down the Hudson River. That's a lot of fun for those looking to network with others in the LGBT community.
Rochester
Rochester is the third-largest city in New York, and it's also home to a couple of great universities. The city hosts the Rochester Pride festival every year, plus Rochester hosts the ImageOut LGBT film festival every year. If you're looking for a larger city to call home, Rochester may be perfect.