Thinking about moving to the northeast? Connecticut is one of the most beautiful states in New England, and it's also one of the friendliest towards the LGBT community. The state was the second in the country to legalize same-sex marriage, so that should tell you right off that you'll be quite welcome there. There are also hate crime laws that protect people on the basis of sexual and gender identity, employment protection laws, and more. Same-sex partners can enjoy full state employee benefits, too. While these protections are statewide, there are still some cities that stand out as amazing places for those in the LGBT community to live. Here are a few of these places.
New Haven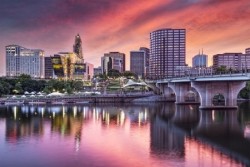 New Haven is home to Yale University, and that means this city is full of college students during the school year. It also means it's an incredibly welcoming place to live. The city's parks are gorgeous, while the harbor provides a great backdrop to many of the events in New Haven. Many in the LGBT community live near Wooster Square, which is also the city's "Little Italy." This part of the city features a number of art studios and small boutiques. The city hosts a large pride festival and other LGBT-friendly events. Housing is also quite affordable.
West Hartford
West Hartford is its own city, but many consider it a large suburb of Hartford. It's a quiet, residential area where the median age is older than many locations. The crime rate here is incredibly low, while the school system is considered one of the best in the state. Like New Haven, you'll find a number of gay and lesbian real estate agents here to point you to new homes.
South Norwalk
South Norwalk is known as a fairly up and coming city in Connecticut. It has a thriving LGBT community thanks in part to the many corporations that have their headquarters there. Xerox, Priceline, Pepperidge Farms, and Diageo all have their headquarters here. Homes in South Norwalk aren't cheap, but they're lower than what you'd find in some of the other large cities in New England.
Westport
Finally, there's Westport. This is another city that's really liberal. Crime is low, and while a lot of celebrities have lived in Westport or have vacation homes here, you'll still find that homes are fairly affordable.
Ready to move to Connecticut? These cities are definitely great places to start your search for your new home!