Great Towns for LGBT Couples in Maine
While many people don't realize it, Maine is one of the most progressive states in the country. A same-sex marriage bill was actually passed in 1997, and while it wasn't legal for long, same-sex marriage did become legal permanently in 2012. There are a number of great places to live in Maine, so if you want to move to New England, here are some of the most welcoming cities in the state.
Augusta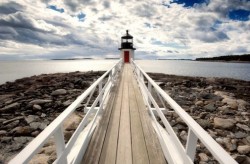 Let's start with the capital of Maine. While it is the capital, it's also a fairly small city. There are less than 20,000 people living in Augusta, so it has that small-city feel to it. It's also home to the University of Maine and has a bit of a college town feel to it in the neighborhoods surrounding the campus. It's a great city to raise a family in.
Rockland
If you'd rather go smaller, there's Rockland. This small city is actually one of Maine's more popular tourist destinations, so it does get busy during tourist season. It's also one of the most welcoming cities and is home to an LGBT community center and a nonprofit advocacy group. During the off-season, Rockland is a quiet town that's perfect for those who are looking for a place to live that doesn't get too busy.
Portland
Portland is the largest city in Maine, so if you want a metro area, you'll want to find a gay or lesbian real estate agent here. The city is very diverse and has a strong LGBT community. The 10 Days of Pride event is held in Portland every year and attracts not only people from across the state, but also many from other parts of the northeast. The festival includes concerts, activities for kids, a marketplace featuring LGBT businesses, and more. It's definitely an event you don't want to miss, even if you decide not to make your home in Portland.
Brunswick
Brunswick is one of the most welcoming college towns in the area. Bowdoin College is located in Brunswick, and many who live in the city either work or study there. The college features the Bowdoin Center for Sexual & Gender Diversity, too. As one of the most welcoming small towns in Maine, Brunswick can be the perfect place to settle down and start a family.
There are a number of other great places to live in Maine. The state is so welcoming and accommodating that you can really live anywhere and feel very welcome.