The Human Rights Campaign has completed its fifth Municipal Equality Index. This study looks at how cities across the U.S. rank based on their policies, laws, city hiring practices, school polices, and other practices protect their LGBT citizens. The study looked at the capital cities of each state as well as several hundred of the most populous and largest cities. In Tennessee, that included eight different cities.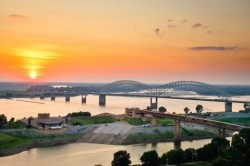 The highest scoring city in Tennessee was Nashville, which scored a 60. That's slightly higher than the national average score of 55, but the other seven cities fell short of that goal. Knoxville, the second-highest scoring city, hit the average with a 55, but Memphis came in just under at 53. The other cities in the state scored even lower, dropping Tennessee's average to 33 points out of 100.
Despite this, Tennessee is working to improve its reputation in the LGBT community. Cities such as Murfreesboro have held pride celebrations for the first time in 2016. While the state does still have a number of challenges that must be addressed, groups such as the Tennessee Equality Project are working with local and state legislators to address these issues.
While Memphis has improved its HRC ranking over the years, the city does still have a number of areas that need work. For example, the city does ranks a zero out of 30 in the non-discrimination laws section. This part of the evaluation looked at Memphis's laws that prevented discrimination on the basis of gender identity and sexual orientation. The city has had a number of debates over inclusive housing laws, especially those aimed at protecting transgender individuals.
Another area where Memphis failed was in healthcare benefits for transgender individuals. The city has no benefits for these citizens. Looking at all of the cities in the study, this was an area of major improvement across the board. In 2012, there were only five cities with inclusive healthcare. This year, there were 86.
Memphis did not fail in all areas, though. For example, the city did score a full five points for the fact that the mayor's office has an LGBT liaison. Another area Memphis received full credit for was for having full non-discrimination laws regarding city employment.
Many LGBT activists see opportunities to improve Memphis's score next year, especially with the mayor's office working with the LGBT community.