Are you thinking about moving to Honolulu? Situated on the large island of Oahu, Honolulu is a large port and is considered to be the gateway to the gorgeous state. It's the most populous city in Hawaii, has many different international businesses, and, best of all, is very LGBT friendly. Both the state and the city itself are quite welcoming to gay and lesbian residents and newcomers, so if you're considering a move to the tropical state, you may want to give Honolulu a look-over. Of course, you do have to be okay with dealing with tourists year-round!
Honolulu and the LGBT Community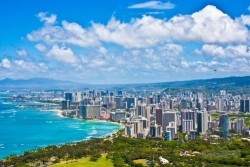 There are about 400,000 permanent residents of Honolulu and thousands more visitors, so you're bound to run into a good number of other LGBT people. The city is quite large, especially when you take into account the consolidated Honolulu Metro Area with its population of around one million.
The city and Hawaii itself have offered benefits to same-sex couples since 1997. In fact, Hawaii was the first state to do so. Unfortunately, voters also approved a Constitutional Amendment shortly thereafter that restricted marriage to opposite-sex couples only. That was changed in 2013 when the legislature passed a bill allowing same-sex marriage. Since then, sexual orientation has been added to the state's anti-discrimination laws and hate crime laws. Gender identity is also protected, although not to quite the same extent.
Moving to Honolulu
The city has a number of different areas that you could consider gay ghettos. The main LGBT neighborhood, however, is definitely Waikiki. Most people know about this beach as a major tourist destination, and it is one of the loveliest spots on the island. It's also, while not an official gay neighborhood, home to a number of LGBT people.
Sadly, as you might expect, Hawaii and Honolulu in particular is not a cheap place to live. Because of the climate, housing prices are quite high, plus the prices of a lot of items are very expensive in the touristy areas. If you do move to Honolulu, you'll quickly discover grocery stores and other places off the beaten tourist track that are cheaper. Also, don't expect to live on the beach—most of the beachfront is taken up with resorts and other rental properties.
With all that said, if you do want to live in Honolulu, it is possible, and it's very welcoming to LGBT people. The Hawaiian culture has always been open to same-sex attraction, despite the marriage ban.