Ever since a study done in 2001 on areas with high concentrations of LGBT homeowners and property values, gay and lesbian realtors have continued to notice that gayborhoods often have more expensive real estate.  This phenomenon continues today.  While it's not always true, studies have shown that neighborhoods where a large number of LGBT people live tend to have overall above-average property values.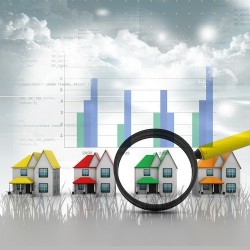 Of course, this won't always happen—a home won't automatically increase in value just because a gay or lesbian couple moves in, nor is it always true for every LGBT-heavy housing area.  However, this trend does appear to be a legitimate statistic, not merely an urban legend.  When people say that when gays move in, your property values increase and you get a new Whole Foods, it may not actually be a joke.
While the original study done in 2001 may be outdated, a recent analysis done by Trulia economist Ralph McLaughlin shows that its conclusions continue to be valid.  He looked at housing data and population statistics from 2012 to 2015.  Overall, he discovered that the average cost of a home in an area with a higher concentration of same-sex couples (both married and those who considered themselves married) was, on average, higher than comparable neighborhoods with a higher concentration of opposite-sex couples.  For areas with more male couples, home prices were about 23 percent higher overall, while areas with more female couples saw an increase of about 18 percent.
In addition to having higher home values when compared to similar neighborhoods, McLaughlin's analysis showed that gayborhoods tend to have higher home prices on average when compared to the rest of the city.  He points to areas like the Castro district of San Francisco, the West Hollywood part of LA, and the Provincetown part of Cap Code, Massachusetts, as examples.  Housing in West Hollywood, for example, is 123 percent of the average LA cost.  In fact, out of all of the LGBT districts he studied, only one was actually cheaper: Guerneville, a part of northern San Francisco.
Is there a reason for this?  Some people assume LGBT people simply keep their homes in better shape or make more improvements than straight couples, but that seems unlikely.  Instead, McLaughlin suggests that most LGBT neighborhoods were already fairly expensive when compared to the rest of the city they are located in.  The housing crash may not have hit them as hard as other areas.  Same-sex female couples are also more likely to have children, which means that they tend to move to better areas with good schools.