There are a ton of things to consider when you decide to buy a new home. Should you buy pre-owned, or freshly built? What area should you move to? What's your minimum and maximum price point?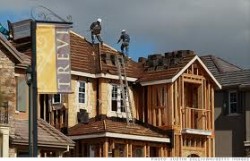 Buying a new home that's being freshly constructed has quite a few perks. For example, there's no likelihood of past wear and tear damage; however, the buying process can be a bit more confusing than usual. Because of this, you absolutely need representation. GayRealEstate.com agents have the proper knowledge, decorum, and experience needed to successfully negotiate a new property's price on your behalf.
The Seller's Representative Isn't Looking Out For Your Best Interest
The representatives (agents) in the sales center at the new home construction site represent the seller. This agent(s) is looking out for the best interests of the property and the seller. This means that they may omit details about the construction, the neighborhood, the schools, the soils (anything) unless you ask. They won't inform you of other local properties that may be similar at a lower price. And most importantly, they'll charge the highest price they can get out of you. The seller of the property has an agent on-hand that is primarily invested in their best interests. Therefore, you should too.
Your Representative Can Communicate Better Than You Can
Your representative can communicate with the seller's agent using industry jargon. Not only does it garner more respect for the both of you, it also means that both of you are more likely to be kept in-the-loop on every detail moving forward. This also takes haggling into account. When you haggle, it's very easy to come across as condescending or rude by accident just because haggling in real-estate is complex. Your seller may be willing to haggle if it's offered in a roundabout way. For example, instead of reducing the list price of the home from $500,000 to $485,000.00, they may be willing to front the cost of something else that costs $ 15,000.00. The list price of the house doesn't decrease, and you still saved $5,000.00. The real estate agent representing you has experience in business dealings, so you won't have to worry about making this potentially costly misstep.
Your Representative Has More Information Than You
Sites like Zillow are great for general information and pricing. However, your agent will be privy to different, in-depth sources that you won't have access to. They also have the benefit of industry connections. Without this information, you could be working with a seller or seller's agent who is known for making bad deals, or worse, building crappy homes, without knowing it!
Your Representative Might Find You Something Better
An experienced representative keeps themselves up-to-date with all of the current housing trends in the area. That means that they'll tell you if a better home appears nearby at a similar or cheaper price. They'll give you a giant list of options to consider before you commit to one home.
Buyer Representation is FREE!
When the seller contracts an agent, they agree to pay the agent a portion of the total commission when the house is sold. If you do business with the seller, the seller's agent must pay your agent a portion from that commission as well. Buyer's representation doesn't cost you (the buyer) anything, so there's no reason not to be represented!
Find the perfect LGBT Realtor to represent you FREE in your home purchase at www.GayRealEstate.com.