The best thing you can do before moving to a different state is to get to know the job market. After all, it'd be silly to move somewhere and get a shiny new mortgage without having a way to pay for it! Luckily there are many places for the LGBT community to settle down with a promising job and to fit right in with the community!
California and Washington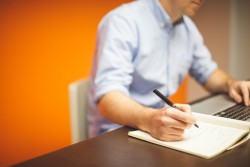 California and Washington are both tied for the number 5 spot. In 2014, their job markets both saw a 2.2% increase which (while good) is pretty modest compared to some of the other cities. However, the thing that distinguishes them is their social attitudes. They both are extremely liberal and very welcoming of LGBT folk.  They both have had gay marriage, gay adoption, gender reassignment, and hate crime laws for some time now. If you're looking to build a life for yourself, you absolutely cannot go wrong in either of these states.
The thing that distinguishes them from the others is the housing prices. Washington is moderate with an average of $268,400. But California is guaranteed to put a dent in the average person's wallet. California's average price is a whopping $439,500.
Delaware
Delaware is number 3 with a job growth of 2.5% in 2014. It's progressive, and all of the major LGBT rights such as marriage, gender reassignment, and adoption are all legal. There's also a meticulously crafted system of hate-crime laws that protect LGBT people. It's not quite as progressive as California or Washington, but it's not bad by any means. Delaware housing prices are quite affordable. They average $203,500
Colorado
Colorado's employment market growth in 2014 was 2.7%, which is very good. Colorado is also quite liberal, meaning that adoption, marriage and gender reassignment are legal. Colorado also has laws banning the use of conversion therapy on minors, which is a VERY good thing. The housing prices are moderate, as they average around $265,000.
Nevada
Nevada wins the top spot for job growth with a giant 3.6% increase in 2014. Public opinion polls as well as legislation in Nevada also indicate that the social climate is very tolerant. Straight couples and LGBT couples are treated the same. Opinion polls taken in Nevada show that over 75% of Nevada citizens agree that same-sex couples should be legally recognized; 39% of people believe that same-sex marriage should be legal, and another 38% believe that it should be civil unions. The average housing price is tied with Colorado for $265,000.