When relationships get serious, couples generally want to live together. Many couples choose to rent a home together as they begin their life together. Following are the top six renting tips for LGBT couples.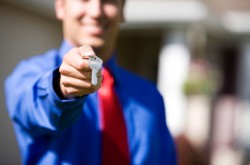 1. Know your rights before renting. In many states, it is not illegal for landlords to refuse to rent to unmarried couples or because of religious beliefs. You should find out if your state has laws that prohibit discrimination based on marital status, sexual orientation or sexual identity. This will help you avoid losing an apartment or home that you think is perfect for the two of you.
2. Enter into a legally binding cohabitation agreement with your partner. The agreement should include who will pay the rent and the security deposit or how much each will pay, how bills will be split and what happens if you decide to dissolve your relationship. This will help avoid major disputes in the future.
3. Make a list of all of the assets that you each bring with you including bedroom sets, televisions and other items of value. Although this may not seem important, after a few years of calling everything "ours", there could be a dispute over who owns what if your relationship dissolves. When new items are purchased for your home, the partner who bought the item should write his name on the receipt and file it away so that there is no future dispute over who purchased the asset.
4. Lease the rental property in both of your names. If your name is not on the lease, you will have no right to stay if your partner asks you to leave. Even if he or she has to go through legal channels, as the tenant on the lease, your partner will have a legal right to evict you.
5. Financial experts including Citigroup Inc. generally advise that couples keep their finances separate until they are sure the relationship will last. You may want to continue to keep your individual checking accounts and pay your credit cards, car payments and other debts individually. While keeping your normal finances separate, you should consider opening a joint checking account. Each of you could then put your share of the rent and household expenses into the account to be paid out each month as appropriate.
Moving in together is a big step in a relationship. Making use of the some or all of the above top 6 renting tips for LGBT couples will help avoid minor and major disputes during the course of your relationship.