Going to an open house is a great way of seeing a property, but there's more you can learn than just how large the house is.  In fact, some people go to open houses for properties they have absolutely no desire to own.  Why?  There are a number of facts they can learn about a neighborhood from going to an open house and asking the right questions.  Here are a few things you may want to ask the real estate agent.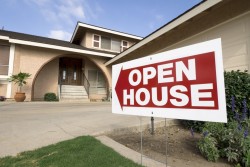 Why are the owners selling?  You're most likely not going to get a straight answer on this one, although some agents may accidentally let it slip.  This is especially true if the house has sat on the market for a good length of time and the sellers really want to unload it.  However, if the reason is because of something with the property or its location, expect a dodgy answer.
Have there been any offers yet?  If you do want to buy the property, this will help you get an idea of any competition you might have.  You might also want to ask if the sellers have outright rejected them.  If they have, getting the agent to tell you why, will help when you put in your own bid.
What other costs are involved with the property?  This is important if you're buying a condo or are looking at properties in planned communities.  Sometimes, there are things like association dues, extra taxes, or other expenses that aren't listed upfront.  You may also want to ask about the homeowners association and what you specifically can't do on the property.  Historic neighborhoods may also have rules regarding what can be done to homes.
Does the property have any liens against it?  You don't want to find out that there's a tax lien, construction lien, or other issue with the property after you've put in a bid.  Even something like unpaid homeowners association dues can lead to a lien, and even if those dues aren't a lot, a lien is still a lien.
How long has the property been listed?  If the property has been on the market for six months or more, the sellers may be open to a lower offer.  Also ask if the price has been reduced and, if it was, when.
In addition to giving you insight about the property itself, these questions can also give you an idea of what the selling price of the neighborhood is like and if homes there tend to get snatched up quickly.