Once you have decided to sell your home, there are steps that need to be taken to get it on the market. The following will give you an idea of what is involved with gay divorce and selling the home.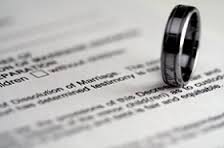 You should get the house ready to show by making any necessary repairs, painting and generally making the home look nice and uncluttered both inside and out. This will help you get the best possible price for it when it sells. To avoid future conflict, it would be wise to prepare an agreement with each other that covers how the costs associated with selling the home will be paid and how the proceeds will be split once the home is sold.
You have the option of selling the home yourself, but hiring a real estate agent will save you a lot of stress. Selling your own home involves many steps including setting an appropriate selling price, preparing advertising materials, listing the home in various newspapers and other advertising venues, showing the home and holding open houses, learning which forms and documents that must be used according to your state's laws, and finding out whether a lawyer must handle the closing. Laws related to real estate and gay marriage varies in each state and do affect the result of selling your home. Taking on the task of selling real estate yourself can quickly become almost a full-time job.
If you have decided to hire a real estate agent, you should contact a local gay / gay friendly agent that is familiar with LGBT issues. This will help avoid the possibility that you may be discriminated against and could help you avoid losing money on the sale. Gay / LGBT friendly agents keep up with the ever-changing same sex marriage laws that affect real estate and the sale of your home. The agent will help you arrive at a realistic listing price, list the home in the MLS, Multiple Listing Service, and may even have a potential buyer on his or her list that are looking for a home just like yours. Your agent will also handle showing your home to potential buyers and will arrange the closing. He or she will assist you and answer your questions throughout the entire process.
Once the home sells, you must pay the mortgage, any second mortgages and the agent's fees from the proceeds. The funds that are left after expenses may then be divided between you as agreed.
Gay divorce and selling the home is a stressful undertaking. Hiring an gay / gay friendly real estate agent can help take much of that stress away ~ choose your perfect agent in a free on-line database at www.GayRealestate.com.