If you are shopping around for a home and then applying for a home loan it means that you are putting "the cart before the horse."  Knowing the amount of the mortgage you prequalify for before you shop around for home spares you the heartbreak of choosing a property and then being told by a lender that you cannot afford it. Having this information in-hand also impresses everyone involved in the real-estate transaction and may give you an edge in the bidding process.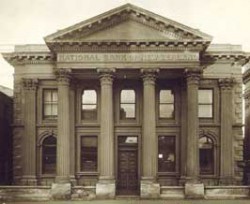 Your first step to finding a loan is to visit the bank that offers you the lowest interest rate, but you also need to make sure that there are no "catches" to the offer. Sometimes banks advertise lower interest rates as a way of luring you into doing business with them but there can be factors involved that can elevate the cost of your mortgage. For instance, there may be a minimum down payment required on the loan before you qualify for the lower interest rate. You will also definitely be required to have a high credit rating before you will be considered for any mortgages with lower interest rates.
There can also be other hidden costs when applying for a prequalified mortgage that only really become evident once you have successfully acquired the home and it is time to sign an agreement. These hidden costs can include the closing costs, application fees and origination fees.
Before you talk to a lender it is a good idea to acquire a mortgage payment worksheet or use an online mortgage rate calculator to determine what the ballpark figure is that you can spend on a mortgage.
There is also next to no point in visiting a lender to acquired mortgage prequalification unless your debts are paid off or at the very least being paid absolutely on time; you have several active forms of credit in use including major credit cards from a prime company such as Visa, MasterCard or American Express; and ideally an already established credit line or proof that you have paid off a credit line on time and in full in the past.
Finally, if you are planning to apply for a mortgage prequalification do not buy a car, appliances or any other type of large item on credit at the same time as this can cause the lending institution to lower the amount it is willing to lend you.  It is also not a good idea to try and change jobs and buy a home at the same time, as most banks will not prequalify you for a mortgage unless you have been employed at least two years
Prequalification for a mortgage is, in a way, all about timing so make sure that you have all of the paperwork that is required in place. It is also a good idea to make sure that you have copies of everything that relates to your financial standing in place and ready to present to the lender in a meeting.