Have you ever walked into a new home for sale to see its walls all painted that sterile white or neutral cream tint and then wondered, "What would this place look like if I painted the walls a different color?"  It used to be that we had to hold up color chips from the paint store and work our imaginations quite hard before we could picture how a place would look if the walls were redone in a different shade.  Nowadays, however, there is an app for that!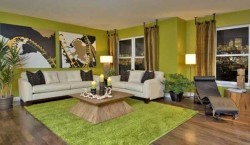 If you own an iPhone, Android or Blackberry you are able to download any of the virtual room painting and color visualizer apps that are available online for absolutely free.  The very best ones enable you to walk into any room in a house, take a photo of a wall or room and then choose a color from an electronic palette.  With the tap of a finger your can deftly obtain a photo of the room that you think might look better painted with a certain hue and then share and upload it on social media or with someone with a similar interest in the personalization of the property.
These apps are not just handy for buyers to have on hand but they also are of great assistance to people trying to choose paint colors for the walls in a staged home as well as real estate agents that might want to show an interested party the possibilities of newly painted walls.
Big paint companies also sponsor many of these apps, so it is easy for you to just order the paint that you want online or at your local seller.   You can also save your color choices in a "favorites" color list on most of these phone programs.
Good examples of smart phone paint apps that will take the picture of the room on the spot and then virtually paint the photograph are Behr Colorsmart and Benjamin Moore Color Capture. An excellent app that is not owned by a paint store company is Paint Harmony and this are available for download on Mac or Android. You can get Mac programs by shopping the Mac store or iTunes and you can get Android apps by shopping the Google Play store.  Blackberry World is the main place online from which to download paint color visualizer programs from the Internet.
If you don't want to upload a smart phone app you can also find online paint visualizers for your desktop or laptop computer.  Behr Paint Your Place, Benjamin Moore Personal Color Viewer and Sherwin-Williams Color Visualizer will all allow you to upload a photo of the room you intend to paint and allow you to "drag and drop" colors where you intend to paint.  The Benjamin Moore program can be used as either an online or offline program but the Sherwin-Williams  and Behr color visualizers might require you to install or update programs such as Java or Flash.