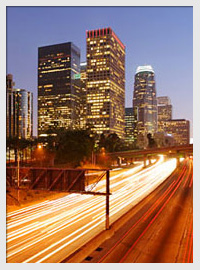 Next to New York City, gay realtor Los Angeles reports Los Angeles has the largest number of gay residents in the United States. Known as a tolerant city in part due to the presence of the large entertainment, arts and fashion communities, Los Angeles has a long history of being a city where gays aren't afraid to be "out and proud". Many gay enclaves are located near Downtown LA and West Hollywood. According to gay realtor Los Angeles, some of Los Angeles' top gay neighborhoods include Silver Lake, West Hollywood, the San Fernando Valley, Hollywood, Los Feliz and Long Beach.
Located east of Hollywood and north of Downtown Los Angeles, Silver Lake lies between the I-101 and the I-5 freeways. Silver Lake is a hilly community of neighborhood businesses, funky restaurants, farmers markets, eclectic shops and a thriving indie music scene. Silver Lake contains a thriving Hispanic population as well as a mix of hip 20-somethings, artists and young families. Griffin Park provides outdoor recreation and incredible views. Homes are less expensive than Hollywood and Los Feliz with a mix of avant-garde styles. Popular gay businesses and hangouts include Rough Trade for clothing and accessories and the Akbar lounge for drinks and the city's best jukebox. Nightlife can also be found at Faultline, one of LA's most leathery bars, MJ's and the Other Side.
According to gay realtor Los Angeles, West Hollywood is one of Los Angeles' most popular gay neighborhoods. Known as the "hip and happening" center of gay life in LA, West Hollywood (or "WeHo" as locals affectionately call the community) is a neighborhood that embraces the unique and trendy. Centered at the hub of Santa Monica Boulevard and the legendary Sunset Boulevard, West Hollywood is the place where gays (and straights) go to get their "party on". A few of the more popular nightspots include the Abbey, Fubar, Gold Coast, Micky's , Mother Lode, Rage and The Palms. Some of LA's most popular celebrity hangouts lie in West Hollywood including the Troubadour, Cecconis's, Dan Tana's, Viper Room and the Tower Bar at Sunset Tower.
Adjacent to Hollywood and Silver Lake and hugging the hills near Griffith Park is Los Feliz. Gay realtor Los Angeles reports Los Feliz is quieter, statelier than its neighbors to the south and is home to more expensive homes and many celebrities as well as small studio apartments.
Members of the LGBT community looking for more affordable housing are moving twenty-five miles south to Long Beach. Long Beach has a strong economy with a thriving manufacturing and healthcare presence. Housing options range from beachfront condos and apartments to older single family homes. A thriving gay community is located in Alamitos Beach with many LGBT owned businesses centered on the Broadway corridor.
Los Angeles has many gay realtors that can help in choosing the LA top gay neighborhood that is right for you. If you're considering a move to Los Angeles and need assistance with relocation and buying a home, view the profiles of the Top gay realtors Los Angeles free at www.GayRealEstate.com