If you've looked at homes in a gay neighborhood or have lived in one before, you've likely heard the term "gentrification." This term is used when a poor neighborhood is improved and maintained to the point that those who once could afford to live there are no longer able to. Gentrification is often connected to the LGBTQ community due to its history in areas such as the Castro and Boystown. Once, these were the only neighborhoods where LGBTQ people felt safe. Today, however, many find that they simply can't afford to live in these historically gay areas.
The LGBTQ Community After WWII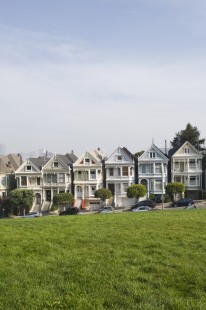 The history of gentrification begins after World War II. Those who had fought in the war were quickly and efficiently kicked out of the military if the let it be known that they were gay. Others found themselves the victims of hate crimes and were forced to leave the neighborhoods they were living in. With often little money and nowhere else to go, they settled in poor, often run down parts of the city.
Over time, these brave LGBTQ individuals and families began changing the communities they were forced to live in. They repaired the homes, improved the landscaping, and in general made the neighborhoods nicer than they were before. Developers saw these up-and-coming neighborhoods and began building new apartment complexes and housing developments in them. The result is that after a few decades, suddenly these "gay ghettos" were affluent neighborhoods with rising property values.
The Benefits of Gentrification
On one hand, the LGBTQ community is able to take advantage of the benefits of gentrification. Many of these homeowners are able to sell their houses for much more than they paid for them. Many even make a profit after subtracting out the cost of maintenance. The neighborhoods such as Harlem, East Village, and West Village were once mostly LGBTQ communities, but today that's no longer true because many of the gay or lesbian homeowners sold their properties for a nice sum. Those who continue to live in these areas now enjoy safe neighborhoods that are the envy of many.
The Downsides
Of course, there are some downsides to gentrification. Young LGBTQ couples and individuals may find it impossible to move into the gayborhood of their choice. Those who continue to live in a gentrified gay district are likely to find their property taxes have greatly increased. Their overall cost of living may have increased, too. Some may even find themselves forced to sell their beloved home because they can no longer afford it.
Whether you love it or hate it, gentrification is something that many LGBTQ people have to face at some point. Fortunately, there are great gay and lesbian real estate professionals here to help you buy a home in the gay neighborhood of your choice or sell a property you already own.