Many people know June is LGBTQ pride month, but few people really understand what exactly that means. Why was June picked, and is there any special significance to pride other than showing off your love of the LGBTQ community?
Pre-Pride Events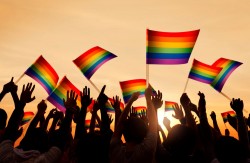 Prior to the creation of Pride Month, there were a number of different movements and activities. The first pride parades were held in June in 1970 on the anniversary of the famous Stonewall Riots. These marches were held in New York, Los Angeles, San Francisco, and Chicago. They weren't called pride parades or pride festivals, and they were much more serious than many of today's events. Marking the anniversary of Stonewall soon became a widespread event. In 1971, there were many more events across the U.S. and even in London, Paris, and Stockholm. The number of marches continued to grow every year after that.
The Transition to the Modern Day Pride Event
Up until the early 1980s, pride marches were mostly focused on increasing the visibility and awareness of the LGBTQ community and the discrimination the community faced. However, around the turn of the decade, these events were slowly changed from commemorative marches to the, pride type festival that we know today. They became more organized by groups that weren't as radical and were looking to create a positive, inclusive event.
The Creation of Pride Month
However, the Stonewall Riots were still recognized as the root of what Pride festivals were all about. Since many of these festivals were held on or near the anniversary of Stonewall, June naturally became the month associated with LGBTQ pride. While these events were held through the 1980s and early 90s, it wasn't until 1999 that June was officially declared "Gay & Lesbian Pride Month" by President Bill Clinton. However, it's important to note that only two presidents have officially named June as pride month. President Clinton did so in 1999 and 2000, and President Obama officially declared the month "LGBT Pride Month" In 2010 through 2016.
What Does Pride Mean?
Pride is more than just an excuse to through a street party or ride on a float. It's a celebration of LGBTQ culture and a way of recognizing and honoring the struggles the community has faced. While same-sex marriage might be legal now, LGBTQ individuals and couples still face challenges with discrimination in employment, housing, and much more.
Are you ready to show your pride this month? The gay and lesbian real estate professionals here at GayRealEstate.com are!